Chapman (Chappie) H Maxwell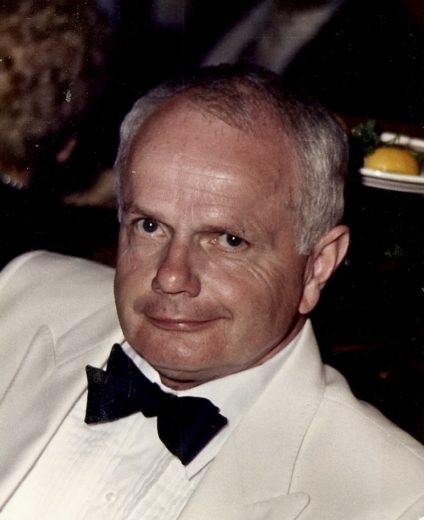 Born on May 1, 1930 in Jackson, Michigan
Departed on August 13, 2021 in Melbourne, Florida
Chapman (Chappie) H Maxwell, 91, of Melbourne passed away on Friday, August 13, 2021. He had recently been moved to Sea Pines Rehabilitation Hospital and was waiting on one of his daughters to "break him out of that place".
Chappie was born in Jackson, Michigan on May 1, 1930 to Mary Helen and Linn Maxwell. He grew up in Jackson and surrounding areas until he met his lovely wife Patricia at a party in Chicago. They met on February 3 and were married the following August. They celebrated 65 years of marriage on August 11, of this year.
Chappie attended Michigan State Normal College, now Eastern Michigan University, and was a teacher prior to joining IBM in 1957. He worked in various capacities for IBM for 37 years and then after a brief retirement, he worked for H&R Block for another 20 plus years. He finally retired in 2019.
In his younger days, he enjoyed tennis, racquetball, boating and fishing and most importantly of all, taking cruises and traveling. He was known for his sense of humor and loved to argue about politics and current events with his family and anyone who would listen to his "pronouncements".
He is preceded in death by his son Michael J. Maxwell and his sister Janet Howe. He is survived by his wife of 65 years Patricia (Stewart); his daughter Judy Fiddler; son-in-law Dennis Fiddler; daughter Sally; sister Mary Lou (Jim) Martin; grandchildren Alecia (Josh) Cain, Jonah (Amber) Fiddler; great-grandchildren Jorden, Addisun, Nora, Wyatt; great-great grandson Waylon; and a host of nieces, nephews and long time friends.
The family wishes to thank the health care workers at Palm Bay Hospital and Sea Pines who took such good care of him in his final days.
Due to the Covid-19 pandemic, a memorial service will be held at a later date. The family asks that in lieu of flowers, donations be made to either Eastminster Presbyterian Church, 106 N. Riverside Drive, Indialantic, FL 32903 or the American Lung Association, 851 Outer Road, Orlando, FL 32814.
Eastminster Presbyterian Church
6 entries.
Dearest Pat, Judy and Sally, I was so sorry to learn of Chappie's passing. Our deepest condolences and prayers go out to you all. Love and miss you all, Paula & Charlie Sample
Pat - I am so very sorry about Chappie. My heart hurts for you. I have such fond memories of him. My prayers are with you & your family. May God Grant you peace & surround you with his love. Love you, Diane Morhaus
My dear friend Pat - I am so very sorry to hear about Chappie. May God comfort you & bring you peace. I have such fond memories of you & Chappie within our H&R Block family there. Prayers for you & all your family. Love you.
My heart goes out to Pat and the family. He was one of my mentors at H&R Block and a great friend. He will definitely be missed!
The Aspinall family consider ourselves to be very lucky, and blessed to have met and known Pat, Chappie and Sally for over 20 years since or first meeting on a cruise. Chappie was a charming, engaging Gentleman who was always full of energy who lived life too the full. His smile, sense of humour and of your his wide knowledge of life and current affairs kept us all listening snd totally engage when he spoke. Sadly, Chappie has know been called to heaven and whilst he will no longer be physically with us he will still be alive in our hearts and memories and thus Chappie will live on for as long as any of us who knew him in life. Rest in peace our very dear friend. Marilyn, Stan and Vicki Aspinall ( Widnes U.K.)
I will always remember his guidance at HR Block. My condolences to the family. I will miss him too.