Charles Bischoff (Charlie)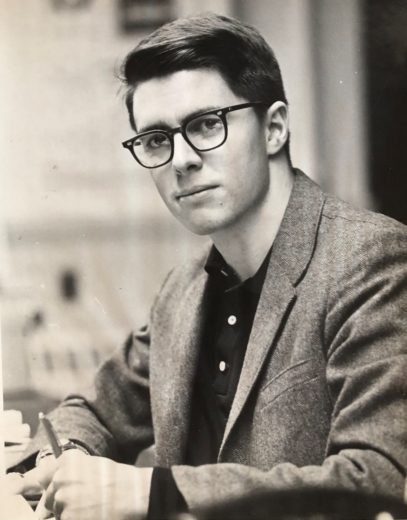 Born on July 23, 1945 in Danbury, Connecticut
Departed on May 16, 2021, in Melbourne Beach, Florida
Charles Bischoff (Charlie) of Melbourne Beach, Florida, died suddenly at his home, aged 75. Born in 1945 to Myrtle (Danckert) and Lewis Bischoff, he grew up in four New England towns – Lebanon NH, Danbury CN, Quincy MA, and Bristol RI.
After graduation he started studying at URI, but decided to enlist in the Army. Trained at Fort Benning GA, he joined the 14th Transportation Batallion which was sent to Viet Nam. His unit was on active duty there from 1965-66, receiving awards and citations for service. His Army days were treasured throughout his life. Following an honorable discharge, Charlie returned to college and received a BA in Journalism from URI. He worked as a reporter for newspapers in RI. He then started working for the Federal Government and became an agent in various departments over the next 30 years (including Immigration, Customs, and Agriculture) working in New York City and living in Twin Lights, New Jersey. Taking the advice of friends to swap northeastern winters for the warmth of Florida, he retired.
Charlie is survived by two sisters (Annaliese Bischoff and Joan Coles) a nephew (Oliver Marston) and nieces (Jennifer Coles and Anna Heneback) as well as many cousins, an aunt and uncle.
A Christian Burial Service will be held for friends at his local parish – Immaculate Conception Catholic Church, Melbourne Beach, Florida on June 8th at 11 am (no flowers, please).
Later this year, a service will be held in Rhode Island for memorial and urn burial in Exeter to be followed with a Celebration of Life.
6 entries.
I don't recall running into Charlie during our careers. I was in the 15 Transportation Corps, Vietnam, 65-66. I also worked for USDA and US Customs. From the comments, I'm sad I didn't know him. He served his country well.
Although I hadn't seen Charlie in decades, memories of his kind spirit, generosity to others, care and concern for his friends and family, uncle to my son, and his story telling stays with me. Life goes quickly. Wish I could've seen Charlie again and shared this. Blessing on your journey Home, Charlie. No doubt we shall reunite in the Great Beyond.
A wonderful man, Charlie was a close friend during our college years and was a close long-distance friend in the decades that followed. We will miss his continued friendship, and we offer heartfelt condolences for his family.
Charlie was a dear and special friend for many years. His sudden passing has left a void in our lives as well as many others that knew and loved him. We will hold the memories and good times we shared together forever in our hearts as He will be sorely missed.
I was shocked and saddened to hear of Charlie's passing. What an incredibly sweet soul . I never saw him without a smile and a wave for his neighbors. If he saw me outside, he'd stop by to give a compliment regarding my efforts in the yard or inquire about my daughters. He had such a kind heart . My deepest condolences to his family and all those that knew him .
So sad to hear about Charlie. I would see him almost everyday driving by my house. He always smiled and nodded his head. I remember when he first moved to Floridana Beach, he came to helped out with weeding our Community grounds. What a nice gentle soul he was. Blessing to his family and may he rest in peace.