Charles Cosmo Clemente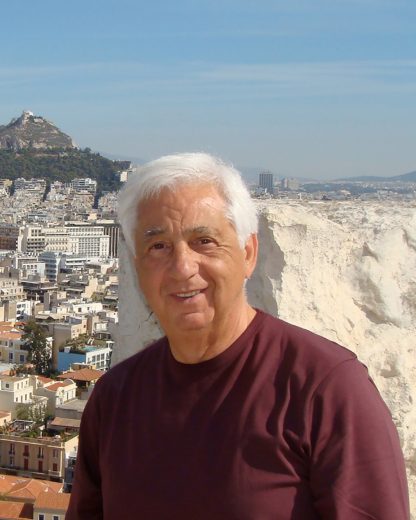 Born on July 27, 1935 in Boston, Massachusetts
Departed on February 14, 2021, in Melbourne, Florida
Charles Cosmo Clemente
(1935 – 2021)
Technology Industry Leader, Entrepreneur and
New Media Pioneer, Charles Clemente, dies at 85.
Charles "Chuck" Cosmo Clemente, Technology Industry Leader, Entrepreneur,
New Media Pioneer and King of Hearts, died on Valentines Day, February 14, 2021 at his home in Melbourne, Florida. He was 85.
A generous benefactor, loyal friend and loving patriarch to his five children and their spouses – Charles (Adriano), Deborah, Paula (Eric), Christine, Erik (Cynthia) and seven grandchildren (Isabella, Caio, Chase, Zoe, Nina, Alex and Lily) – Charles Clemente came from humble beginnings in the North End of Boston, Massachusetts – a small, densely populated community of Italian Immigrants. He lived at 11 Unity Street behind the Historic Old North Church. At the center of his universe was, The Prado, a concrete park flanking Hanover Street, Saint Stephens Catholic Church and the magnificent bronze statue of Paul Revere. In these few blocks; his church, his park, his street, the visionary soul of a leader was forged.
Born on Saturday, July 27, 1935, he was the beloved brother to Richard Joseph Clemente and Richard's surviving wife Bernice and their three sons Richard Darin and Eric and beloved son of "Cosmo "Al" Clemente, revered boxing trainer and proprietor of The New Garden Gym, and Fillippa Cordovano, Al's Spirited bride of over 50 years. Mr. Clemente survived his wife Ruth Cote-Clemente, philanthropist, Mother and Grandmother, who passed in 2005.
When asked to define his legacy, Mr. Clemente jokingly said "Survival" remembering what it was like to grow up during World War II where money and food were scarce. "But," he said, "I saw things differently than others. I was always able to see the bigger picture and carry it into the future. And carry it he did, parlaying childhood street smarts into technology sectors retiring as Chief Operating Officer of media giant, America Online/ Redgate Communications. At that company and at hundreds of others, Chuck used his unique combination of operating management and hands-on counseling in strategic marketing and positioning to evangelize new media helping to redefine the digital age.
He was previously involved in marketing and communications with Digital Equipment Corporation, Gray Stratton International and Hill & Knowlton, among others, and served as a consultant in strategic marketing and positioning to a variety of companies, from Fortune 100s to start-ups to leading international corporations such as IBM, XEROX, NEC and Phillips. He worked extensively with boards of directors to formulate corporate business and marketing plans and the implementation of international mergers.
Mr. Clemente's family moved from the North End to Medford, Massachusetts after purchasing their own home at 36 Cherry street. He attended Medford High School, graduating in 1953. He was a Veteran of The Korean War serving in the Fifth Air Force as a Radio Air Man from 1953 to 1954. Upon returning to the States, he attended Boston University on the GI Bill where he received a Bachelor of Science in Public Relations in 1962. While at school he was elected President of Sigma Alpha Epsilon Fraternity and received The Order of the Phoenix, the highest level of recognition for outstanding commitment and loyalty to his brothers. He carried this friendship in his personal life forging deep lasting friendships that stood the test of time. He continued to provide generous support as a trustee and was the recipient of the College of Communications Distinquished Alumni Award in 2000. A lifelong learner, Mr Clemente completed several leadership programs throughout the years and was honored to travel abroad when invited by Oxford University to speak about Entrepreneurship.
In April 1999, he joined the Board of Trustees at Florida Tech, bringing outstanding business acumen, leadership and vision. He also brought unparalleled generosity, as demonstrated by a $2.5 million gift for a 58,000-square-foot state-of-the-art-Gymnasium – The Charles and Ruth Clemente Center. "Chuck was never the loudest person in the room, but he was always one of the sharpest," Florida Tech President Dwayne McCay said. "The combination of his experience in technology and business counseling made him an ideal Florida Tech trustee, and his guidance and insight will be greatly missed. We are so thankful for the time we got to spend with him, and for his everlasting impact on our university. Mr. Clemente gifted $5 million in total to the university over the course of his time on the board.
His community support extended beyond Boston University and Florida Tech. He was a former chair of the Astronauts Memorial Foundation and served on the boards of the King Center, the American Cancer Society and Easter Seals. In 2005, he was named a laureate of the Junior Achievement of the Space Coast's Business Hall of Fame.
Charles Clemente, in the final years of his life, fought cancer valiantly, with a courageous heart reminding us all that life is not a destination but a journey of the heart. "Remember," he said, "you only get to take with you, after you pass on, what you've given to others."
The Clemente Family is comforted by the enormous outpouring of love and joy-filled stories from dear friends and colleagues. We carry you all and his medical angels in our hearts. We're so thankful for his traveling companions who explored this wonderful world with him, enjoying art, music, fine wine and food together. He leaves a legacy of leadership, love and laughter memorialized in the most beautifully written notes and handcrafted wooden treasures made to order. In his spirit and in his honor, we proclaim: "Carpe Diem" – Seize The Day!
1 entry.
Chuck, such a kind man. Loved our conversations. Funny, charming and a pillar of this community. You will be dearly missed. So many if us love you. R I.P. Sue Rice