Charles Daniel Rigsby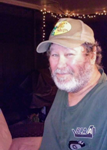 Born in Melbourne, Florida on July 18, 1962
Departed in Palm Bay, Florida on August 26, 2019
It is with great sadness that the family of Charles Daniel Rigsby known as Big Dan of Palm Bay Florida Born July 18, 1962 announces his passing suddenly on Monday August 26, 2019 at the age of 57 peacefully in his sleep. He will be lovingly remembered by his wife Adrienne Rigsby, step sons Michael and Joshua Carver, 2 grandchildren. He is predeceased by his father Charles Gilbert (Gibby) Rigsby and survived by his mother April Elaine Rigsby Hunter of Melbourne FL, Brother Mark Rigsby (Julie) of West Melbourne, Charles (Gibbo) Rigsby (Tammy) of Palm Bay and his sister Christina Lawhon (Dan) of West Melbourne. He will forever be remembered by many Aunts, Uncles, Nieces, Nephews and friends.
The family will be holding a memorial service at Brownlie-Maxwell funeral home at 1010 Palmetto Ave. Melbourne FL 32901 on Tuesday September 10, 2019 from 5pm to 7pm with services officiated by Pastor Steven Velie at 6pm. In Lieu of flowers gift cards to help Adrienne through will be greatly appreciated.
Danny was born and raised in West Melbourne Florida. He worked in the construction industry and owned his own stucco company. He has always been a hard worker and would at any given moment stop to help family or friends in any way he could, he was Big Dan and had a Very Big Heart! He loved going out in the swamp in his airboat and fishing at Sebastian Inlet but more than those things he loved his family and friends. He was a loved by all who came in contact with him as he had a very vibrant personality! He had a very contagious laugh and beautiful smile that will live on in our hearts forever.
There will be a Celebration of Danny's life on September 14, 2019 at Camp Holly in Melbourne FL with times and details to follow.
10 entries.
Brother, I said goodbye to you tonight. But, it doesn't seem real. You can't possibly be gone. I'll miss your wonderful sense of humor and your golden smile. I'll miss your phone calls checking in on me and telling me how much you love me. You were an amazing big brother...You were always our protector and always made us feel safe. Rest safely in the arms of God brother. I cannot wait until the day I will see you again in heaven. Love you more then words can express. Death cannot separate our love or our bond with one another. Until we meet again. So long!
We are sorry to heard of his sudden passing. May he Rest In Peace.
I miss you so much already Danny. Thank you for all the love and support, hugs, and laughter. You remain in my broken heart, until we meet again in Paradise❤
Rest in peace Danny you were a good man and will be missed . Heaven got another great soul I'll look you up when it's my turn
My heart goes out to the Rigsby Family. My God be with you. Hugs, Love and Prayers to you all!
Shavonne Gibson (rigsby) and family my cousin BIG DANNY was a wonderful and kindhearted person with a big heart. You will be MISSED so much.
My condolences to the family. May you find comfort in God's love ❤️
Danny, Big D, Big Dan , Dano, you was one of a kind and will be missed by so many. Adrian,Elaine,Mark,Gibbo,Tina and Family, you all are in my thoughts and prayers through this difficult time. Love y'all
You will forever be in our hearts. We love you more than words could ever say and will never let your memory fade. Until we meet again Uncle Danny... Love you to the moon and back!
Dan you have no idea the love there is for you here, see you on the other side! Big Hugs you will be sorely missed! Love you