Charlotte "Nana" Noonan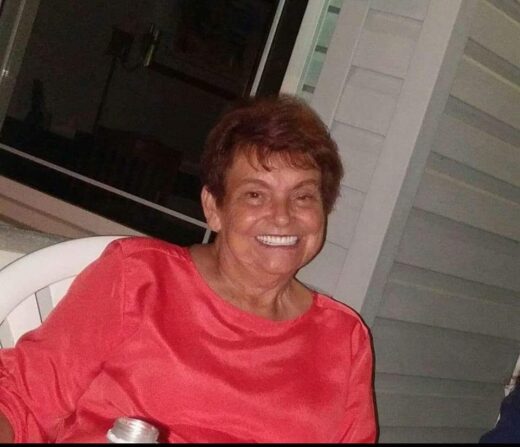 Born on February 18, 1946 in Fitchburg, Massachusetts
Departed December 19, 2022 in Melbourne, Florida
Charlotte "Nana" Noonan
Nana passed away unexpectedly on December 19, 2022 at Holmes Regional Medical Center surrounded by her family and loved ones.
She was born in Fitchburg, Massachusetts on February 18, 1946 to Myril W. and Aline Therriault Bigwood, Jr. and later resided in Melbourne, Florida from 1982 until her death.
She lived a life full of being a loving mother, grandmother, and great-grandmother, taking care of all those around her, and coining herself as "Nana" to anyone she knew and loved. She was a die-hard Elvis Presley and New England Patriots fan. She spent her holidays decorating cookies and forming traditions her family will continue to carry on. She was admired and cherished by anyone who crossed her path because of her big, welcoming heart and contagious smile.
She is preceded in death by her mother Aline V. Bigwood and her father Myrle Bigwood; husband Charles ("Papa"), father of her children Ray C.; sisters Teresa, Annette, and Freda; brother, Robert; brother-in-law Wayne; niece Lisa, and daughter Tammy.
She is survived by her sisters Nancy and (partner) Walter; Sissy and (partner) Rick; children Tina and (husband) Bob, Timmy and (wife) Maureen, Chrissy and (husband) Joe, Steven, Cheryl and (husband) James, Christina, Reese and (husband) David; nieces and nephews Brenda, Heather, Michelle, Tommy, Ricky, Erick, Scott, Peppy, Amber, Amy, Sebastien, Angela, Alyssa, and Michael; grandchildren Shawn, Jonathan, Jennifer, Christopher, David and (partner) Becca, Joshua, Jonathan, Shannon and (wife) Cynthia, Kassidi, Michael, Ava, Kaila, Stevie, Donald, Kristin, Megan, Jackie, Haley, Andrew, Ashley, Lauren, Kendra and (husband) Jake, Kim, Dayne, Maria, and Arrick; great-grandchildren, Tae, Layla, Christopher, Natalie, Carter, Savana, Zayden, Paige, Shane, Eli, Tatum, Isabella, Killian, Kaiden, McKenzie, Adelynn, Heather and Victoria (plus, so many others whom she positively impacted).
A celebration of life (with further details to come) will be held in her honor in February 2023 near the time of her birthday.
9 entries.
Missing you aunty Charlotte !! Love you ❤️
All my love to Charlotte's family. Mary Anna Brushe
Words could never explain how much you meant to us Nana. The only Nana I ever knew and had. Thank you is such an understatement and seems to mean so little but I its screaming from my heart ❤️ Rest easy Nana until we meet again ❤️ Love Reesi David Andrew Ashley and Lauren The Cordio's
The worst day of my life, was the last day of yours. I will never stop saying your name or telling your story. You will always be remembered Charl. You told me again and again to never say "Good Bye" just "See you later" and one day, we will meet in Heaven. I love you Sistah. 💔
My condolences to the family. 🕊
I miss you so much Mom I'll see you when it's my turn to come home to God ❤️ Until then ... No bye-bye
Missing you sooooo much mom. But I know your at peace now, having a big celebration with all our angels. "RIP Mom, I love you . "No byebye, see you later". ❤️