Clark A. Maxwell, III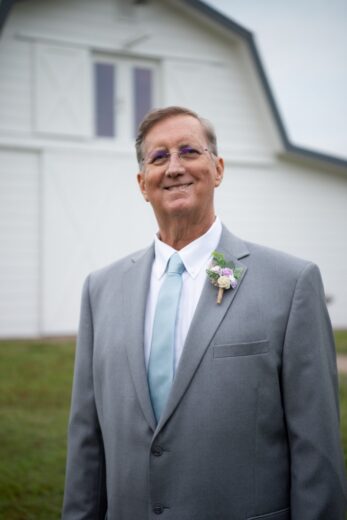 Born on October 2, 1957 in Columbus, Georgia
Departed February 9, 2023 in Palm Bay, Florida
Clark A. Maxwell, III, 65, of Melbourne, Florida, passed away peacefully with his family and pastor at his side on February 9, 2023 at William Childs Hospice House after battling colorectal cancer.
Clark graduated from Eau Gallie High School in June of 1975 and entered the University of Florida in September of 1975 where he joined Theta Chi Fraternity. Clark held the offices of Treasurer, Vice President and Assistant Pledge Marshal. Clark was also a member of Blue Key Society, a student leadership and honor society. Clark graduated with a BSBA degree in Real Estate in June of 1979. Clark was a member of Jaycees and was a 3rd degree Freemason from 1985-1993. Clark owned a successful commercial appraisal business for over 30 years here in Melbourne, Florida.
Clark was also known by many as "superman". His strong determination to fight cancer with a positive mindset as an eternal optimist throughout the journey helped him to beat the odds. Clark grew up boating and fishing with his family. He had many fond memories of lobster and fishing trips to the Florida Keys and Canada. He also enjoyed annual ski trips to Swiss Mountain Village in Blowing Rock, North Carolina with his daughters and grandchildren. Clark was an avid runner, competing in over 20 5K races and one half marathon. He was also a long standing member of the "Boo-Birds", touring spring training baseball games throughout Florida.
Clark was a regular participant in many church activities including a men's Christian life group formed more than twenty years ago to study scriptures, read devotions and to remind each other of the promises of God. Clark is beloved by all in the group. The memories of his friendship, his courage and his transformation live in each of them. Clark was also very involved with Family Promise of Brevard, where he was passionate in supporting that families have a safe place to call home. We are assured of Clarks ultimate healing and wellbeing as Clark is one in whom Christ dwells and delights.
Clark is survived by his mother, two sisters, two daughters, and five grandchildren. His memorial service will be held on March 11, 2023 at 11:00 am at Suntree United Methodist Church, 7400 N. Wickham Rd. Melbourne, Florida. Please join us in sharing memories.
In lieu of flowers, Clark asked for donations to be made to Family Promise of Brevard:
15 entries.
I love you my big brother. I will always be your grasshopper and continue to learn life lessons from your continued guidance and light. Until we meet again, Your loving sister Marty
Clark and I go back to the late 80's when we first met professionally. We became friends over the years, playing golf (he gave me the infamous "block of cheese" driver) and fishing. I still feel bad for losing a nice redfish he was reeling in at Sebastian inlet.. broke him off trying to get it in the boat. He was gracious, but clearly disappointed, and also never let me forget it! He supported the arts, and was a reliably good property appraiser, always happy to share local knowledge, whether officially engaged in an assignment, or just talking about the market. Clark, I'll miss you, and am proud of how well you endured and thrived through this difficult time of illness.. superman, indeed! See you again some day!
Clark would know me as Kit; I live across the street and write poetry. This is my tribute to Clark: Super Ti Man by Christopher Robin Adams I sit in the shade of a quite mature Bismarck palm. Ancillary shade drops in from a young saw palmetto and a rambunctious ponytail palm. A barren frangipani stalks me and waits for spring to get closer. From here, I look at Clark's house, quiet with Adirondack chairs in front of the closed garage. A monster Spanish bayonet and few Hawaiian Ti plants don't move in the warm afternoon's windless blue. I sit at a table created by my father 70 years ago: a welded angle-iron frame painted black with a worn plywood inset, likewise black, and both speckled with paint from many years as a work table. Dad made it for our family of four just moved to Florida. All of this sets the stage, including a cool beer open, and a cigar in hand, a staple for writing poetry. this is the activity that makes me visible and how Clark and I would meet; he would be puttering in the yard or returning from trips out. He would see me, and I would call over, "Go, Gators!" and we'd wave. Sometimes, though, he'd walk across the grass, and we'd talk about Gator games, about days gone by. Somewhere in there, I learned his name. He shared his Hawaiian Ti plant cuttings which now line the north side of my house. We discussed work and our families. Turns out, our dads worked on the same programs at Patrick Air Force Base with the missile program. A good neighbor, he took in UPS packages and shared kind greetings. Now, he has passed. the quiet neighborhood is quieter. Its birds chirp about spring's approach, and sandhill cranes scream as they pass over in loose formation. His family remains, and we talk of a near-finished memoir as one more legacy of Clark's visit to earth. Kurt would say, "So it goes." I'm still saddened. My pen moves, the beer lowers in the bottle, and the cigar ash lengthens. Sunset is near and will arrive. As it must.
I knew Clark professionally working in Melbourne. I worked with him on his political campaign years ago when we became friends. Rest in peace Clark you will be missed
Clark was my cousin and I loved him dearly, as all of his family members in Orlando, Tallahassee and Melbourne along with others who were lucky enough to encounter him along the journey of life. He was an extraordinary person who was extremely talented in property appraisals as well as having a profoundly loving heart. Clark sincerely cared about everyone, and he was a gift from God given to all of us who were lucky enough to have known him. His heart had endless boundaries of loving and helping others, and I will miss you deeply, my dear cousin, because you rank top among all leagues of people.
Clark was a great friend over the years and we got along right away when we met in 2013. We met in a Men's spiritual group, and he would drive me to the spiritual retreats in Orlando. Back then I didn't have that reliable of a car so he offered to take me. On those drives, we would crack jokes and talk about this and that. He was just so easy to talk to and we shared similar sense of humor. You just know when you meet a kindred spirit, when it just comes natural. At the spiritual retreat center, they had a "labyrinth", which was essentially just a path on the ground that you would go into and focus on the path. My first time going, he made it sound almost like a maze that you could get lost in. "Don't get lost in the labyrinth when we're there". Of course when I finally saw it, I laughed at it just being a winding path on the ground. It was extra funny too, because he would mispronounce Labyrinth and said it like "lab-ber-nith", so I kept making fun of him for saying it that way. That was an ongoing joke after that. Looking back at old text messages, it's funny to see how much we messed with each other haha. While life took over and I got married and I had kids, I stopped attending those spiritual meetings as much, we always kept in touch and stayed friends on Facebook. He was one of my biggest champions and supporters, always engaging with my business posts or family posts. And protective like a dad is. I once posted a photo of me mowing the lawn without shoes on and he said "No shoes?! Be careful!!" and I could tell he genuinely meant it with concern. He was a genuinely nice person. Caring and kind. His kindness still radiates through the life and legacy he left behind and I feel it in my heart. Thank you for being a friend, Clark. All of my love to you and your family. Rest easy. - Ant
What a great friend and fraternity brother you were. I'm going to miss you. Loved our days in Gainesville. Always enjoyed you boys from Melbourne. Rest peacefully bro!
I will so very much miss Clark's witty humor. We became friends in 7th grade and while years could pass between conversations, could pick right back up. He was like that with most everyone. Kind and caring.
Praying for God's loving presence to comfort Clark's family and loved ones for this huge loss. What a beautiful and impressive legacy he left of his kind and giving nature. To me - a caring and funny friend, and wise mentor I am grateful to have known. Rest in heaven, Clark. And as you'd say when the storms were headed our way - See ya on the other side.
A special guy. A long time friend. May I learn from your journey. Hope we can meet up again.
God......I really miss Clark. I miss our talks. I miss his wisdom & counsel. I miss his wit. I miss his unconditional acceptance of me. Proud to call me him a friend and a brother in Christ. I'm heading to the Family Promise link now and invite Clark's friends to join me. I know that FamProm was close to his heart.
You are so loved by so many and will be missed so much. You have been so brave, rest in piece.
Clark was a great friend that will be missed dearly. God bless all of you through this trying time.
RIP, my friend and brother-in-law! You make me proud to be part of the Maxwell family…
While I didn't know Clark personally, I feel like I have come to know a part of him through my friendship with his daughter Tiffany. I can only imagine how he must have lived based oh her strength, persistence and free spirit in everything she touches. God bless you all in this time, and may the lord carry you in your toughest times. Prayers and thoughts to you all!! Dave