Corrinne Adele Conn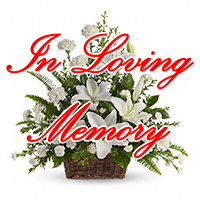 Born on April 17, 1928 in Newport News, Virginia
Departed on January 19, 2021, in Melbourne, Florida
Corrinne Adele Conn (Age 92) passed away peacefully on January 19, 2021, at Hibiscus Court assistant living facility in Melbourne, Florida.
She was born on April 17th, 1928 in Newport News, Virginia. She attended Washington and Lee High School where she was part of the yearbook staff. Always on the go, she was passionate about the arts, design, and fashion. Her classmates would say, "Corrinne was happiest with a paintbrush in hand."
Determined to pursue a career in the arts, she went on to attend George Washington University where she would study Fashion and Interior Design.
Corrinne was a loving mother and a devoted wife. She married decorated Air Force Officer Chester L Conn on October 24th, 1964. Together, they raised two sons, Charles and Michael. She and Chester would be together for the next 38 years, until Chester's passing in 2002.
Corrinne lived a full life and had a wonderful career. She started working in a dress boutique making custom gowns for senator's and congressmen's wives. Later, she would start her own interior design business in Indian Harbor Beach. Often being hired by local businesses and individuals for design work in their office or personal home. She kept active professionally well into her 80s.
Corrinne was a skilled artist in many mediums. But she gained particular notoriety for her hand made Santa Claus dolls and masterfully decorated Christmas tress. Even winning the Festival of the Trees numerous times for her amazing creations. You may even spot a few of her Santas in local businesses around Central Florida.
She was one the kindest women you'd even meet. But had the determination and drive to knock down any obstacle in her way. Incredibly talented, loving and wise – Corrinne will be missed by all that knew her.
Corrinne is survived by her two sons, Michael Conn, Charles Conn and his husband, Geoffrey, her grandson, Michael Zeiters, and her grandkitties, Salem and Red. She will remain in the hearts of many people who loved her dearly.
Corrinne will be laid to rest beside her husband in Arlington National Cemetery on May 24th 2020, at 10:00 AM ET. All who knew her are welcome to attend. Please wear a face coving and practice social distancing.