Cris Evan Deuble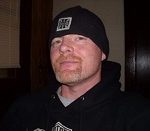 Born on May 25, 1964 in Jamestown, New York
Departed in Palm Bay, Florida on April 24, 2020
Cris Evan Deuble, 55, of Jamestown, NY, passed away Friday April 24, 2020 at his home in Palm Bay, FL under the care of his children and Hospice of St. Francis, after battling with Cancer.
He was born May 25, 1964 in Jamestown, NY, the youngest son of Elbert and Gloria Deuble.
He was employed by The Post Journal for the greater part of 33 years. He took some time off in 1994 to work in the Stage Crew for many big-name bands in Raleigh, NC. One of his favorite parts was the Hawaiian Tropics' girls.
He was a long- time KISS fan, played electric guitar, was in several bands over the years, and enjoyed writing/ recording music. He loved to ride his Harley Davidson, taking the guns out shooting with friends, playing video games, and spending time with family. He was a long-time Paranormal Investigator with Crossroad Ghosts and JPI (Jamestown Paranormal Investigators). He loved watching NASCAR and football, his favorite team was the Dallas Cowboys.
Cris is survived by two children: his daughter Amanda (Patrick) Lewetzki and grandchildren Kyla, Riley, and Ethan Hornburg of Palm Bay, FL, his son Cristopher Deuble and grandson Jayden Deuble of Lanexa, VA; two brothers Dennis (Shelly) Deuble and Jody Deuble of Jamestown, NY ; two nieces: Ashley (Jayme) Genco and their children Jacoby and Ari of Jamestown,NY and Jillian (Steven) Doyle and their daughter Olivia of Buffalo,NY; and one nephew Adam Deuble of Jamestown, NY.
He is preceded in death by his father Elbert Deuble and his mother Gloria Deuble.
There will be a Celebration of Life planned for later this summer in Jamestown, NY.
In lieu of flowers, please make donations to Roswell Park Cancer Institute of Buffalo, NY through the Roswell Park Alliance Foundation.

1 entry.
Cris was the greatest friend I ever had ,he was my Brother for over 45 years,I will miss him everyday.My heart goes out to him family. I love you my Brother.