Dan Brown, Jr.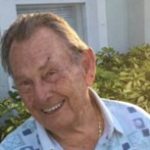 Born in Cross City, Florida on January 15, 1933
Departed in Palm Bay, Florida on October 20, 2019
Dan Brown Jr. 86 of Palm Bay, Florida peacefully passed away at home on Sunday October 20, 2019 surrounded by his loving family.
Dan was born in Cross City, Florida on January 15, 1933 son of Dan and Mae Brown. Dan was a U.S. Navy Veteran who served in the Korean war.
Dan's passion was in aviation. He worked for the FAA for 42 years.
Dan retired as Air Traffic Control Manager at the Orlando-Melbourne Regional Airport in Melbourne, Florida.
He was the past President of the Rotary Club and a longtime member of Veterans of Foreign War Post 4206.
Dan was a loving husband to his wife Dottie and a wonder father, grandfather and great grandfather to his children. Family meant everything to Dan.
Dan began flying aircraft at the young age of 16 years old. He loved to travel with his wife, and never turned down a game of golf or a round of poker. Dan enjoyed happy hour with his friends and family and could barbeque like no other.
He had such a calm demeanor, and was always willing to give great advice to those around him. He had a contagious smile and the brightest twinkle in his eye.
Dan is survived by his devoted and loving wife Dottie Brown of Palm Bay, Florida, his daughter Donna Brown Bryant of Melbourne, Florida, His step daughters Connie Christiansen of Melbourne, Florida, Tammy Caplan of Palm Bay, Florida,
6 grandchildren, 8 great grandchildren, his brother Lamar (Johnnie) Brown of Cross City Florida, his sisters Mazelle (Mickey) Johnson of Cross City, Florida and Hattie Keating of Syracuse, New York.
Dan was preceded in death by his son Chris Brown, his parents Dan and Mae Brown, a sister Jeanette Miller and brothers Robert Brown and Treadle Brown.
A celebration of Dan's life will be held at the VFW Post 4206 located at 3201 Dairy Road in Melbourne, Florida on November 9, 2019 at 2p.m. where friends and family can honor Dan.
The family would like to send a special thank you to the staff of VITAS Hospice for the companionate care provided to Dan so he could stay home with his loving wife during his last days.
8 entries.
Dear Dottie,Alan and I were so sad to hear of Dan's passing. We were so lucky to have been part of his life. He was an extraordinary man. We will always remember him and never forget the times we were together as family. We are thinking about you with our hearts, with deepest sympathies, Pam and Alan .
Dear Dottie, Will always keep the wonderful memories of playing golf with you and Dan. Gd is so good he will carry you through all of this, just keep the faith, and talk with him everyday. You have my prayers. God Bless u and Family.
Mr. Brown, you were always a delightful warm gentleman, every time we met. Mia has told us, her Granny & Papa, wonderful stories of your laughter and the joy you brought to your whole family. Our sympathy goes out to your family, especially Mimi Bryant, Austin, Danna Jo and all the grandkids who will miss you so much. God speed, pilot.
Dottie my prayers are with you and your family
To our dearest friend Dottie ~ We are ever so sorry for the loss of your wonderful husband Dan. My dear buddy Dan has taken his final flight and earned his heavenly wings. I only had the pleasure to call him my partner in crime for the past couple years since moving to Florida. Dan was stricken with alzheimer's some time before our paths crossed. One of our first meetings Dan was in the passenger seat of his nice golden van rockin' some heart shaped sunglasses he found in the cup holder! We had many laughs and many cheers drinking what we liked to call scotch ...flavored gator aid with a splash of sprite during our happy hours to help keep hydrated. He loved to throw the chips on the table and play a little poker from time to time... dealing off the bottom of the deck I'll always remember the look on his face when he picked his cards from the table to find he had a royal flush...all made outta hearts! Dan loved his job as a pilot and later as the main man at the Melbourne airport in the air traffic control tower. Some days I would set Dan up at his table with his old office name plate, a nice pen and the greeting cards from his past birthday to do some office work... he took that job very seriously as he sorted and piled up his cards reading out loud when he could. It took some coaxing to talk Dan into taking a hot lap around the neighborhood in his wheelchair but once I told him it was our golf cart he hopped right in, with my hand on his shoulder we headed out for a round but could only play 9 before heading back to his place for yet another happy hour! Dan helped me so much more than I could ever help him, he may have never known it but he helped me fill a void in my life just at the right time. I will truly miss you partner, the amazing hand shake and the twinkle in your eyes when you would look at your beautiful wife with a love that was not only seen by others but also felt by all around. A love most people could only dream of, an amazing couple. I asked Dan to say hi to my mom and promised him I would only be a phone call away if his beautiful bride ever needs anything ...the last words my partner in crime and I had, until we meet again Mr. Dan Brown. I will always fulfill my promise and you will always hold a special spot in my heart ❤️ ~Lee
Dan was a wonderful man and loved his family very much. Dottie (my special friend) was an awesome wife and has taken great care of Dan. No man could have had a more loving and compassionate wife. My thoughts and prayers to the family. Love you. Darlene
Our sympathy and love go out to Dottie and her family. Dan was a good friend and we always had a good time with him and Dottie. We have many good memories of our time with them. Our deepest sympathy, love and prayers are with Dottie and all their family. We love you. Judy and Brad Carty.