Daniel Joseph Gardner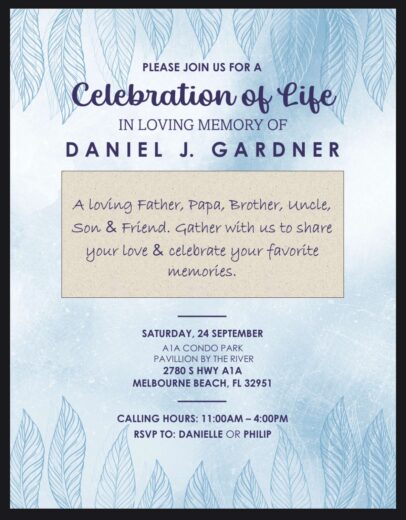 Born on July 25, 1956 in Boston, Massachusetts
Departed September 14, 2022 in Palm Bay, Florida
Daniel Joseph Gardner passed away unexpectedly on the morning of September 14, 2022, at the age of 66.
He was a loving and devoted father to his children Peter and his wife Kristen, Philip, Danielle and her husband Patrick. A cherished papa to his only grandchild, Tyler, he was the beloved son of Betty Gardner and the late Anthony Gardner. He was a loving brother to Tony, Linda, Terry, Bettyann, Nancy and Kim. He will be dearly missed by his former wife Annette Cormier-Venturoso and husband Anthony.
Daniel was born in Boston, Massachusetts on July 25, 1956 and grew up in Natick, Massachusetts. He raised his family in Milford and Franklin Massachusetts, He enjoyed custom woodworking and building things himself. His skills and creativity were inspiring and one of a kind. He enjoyed fishing and riding his motorcycle. He also had a love for movies, naps, and never turned down an adventure with Phil. He spent the last nine years in Florida, with his son and daughter close by. He built a happy life, and told us all daily, he was "living the dream".
There wasn't a crossword answer he didn't know. He was so full of knowledge, and we all have learned something from him. He had the biggest heart and was very sentimental. His family meant the most to him and always came first.
His family will host a celebration of his life from 11 am until 4 pm on Saturday, September 24, 2022 at A1A Condo Park, Pavilion by the River, 2780 S. Highway A1A, Melbourne Beach, Florida 32951. Please rsvp to Danielle or Philip.
4 entries.
Danny, you our Brother-in-law, but were more like a Brother. You were a big part of our family. You took care of my Mom and Dad when they needed your help and were always there to help us as well. My kids will definately miss their Uncle Danny and so will Melanie and I. May God bless your beautiful soul and rest in peace. We all love you and miss you.
My sincere condolences to Tony and his famuly
I'm saddened by the loss of my brother. I think in these last 5 years we've talked or seen each other more than the last 20 years or so. I so much wanted to visit him in June when he was having problems but taking care of my mom was priority as she to was in the hospital, and to top it off we all got covid so visiting Danny was out of the question. R.I.P. my brother.
Rest In Peace Danny. You will be so missed, by so many🙏🏻