David Arthur Simonson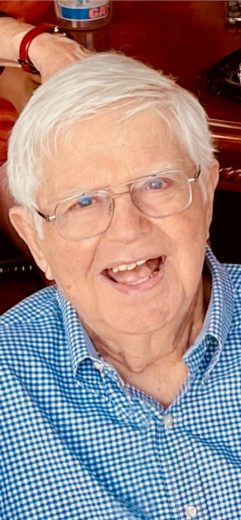 Born on March 13, 1936 in Ruthven, Iowa
Departed June 3, 2022 in Melbourne, Florida
David Arthur Simonson, 86, of Indialantic, Florida, died peacefully on June 3 surrounded by family and his beloved wife of 53 years, Judy.
Born in Ruthven, Iowa during the Great Depression in 1936, Dave attended Drake University in Des Moines before enlisting and serving in the Air Force from 1956 to 1960, where he received extensive training in radar applications.
From 1961 to 2004, Dave was employed by Raytheon and served NASA's Mercury, Gemini and Apollo manned space programs and the Shuttle Program. In 1961, Dave served on Alan Shepard's famed 1961 flight to the moon.
In 1980, he joined the Shuttle Support Group and remained there until his retirement in 2004. Ending his remarkable 43-year career as Operations Control Engineer at CSR, Dave oversaw a worldwide network of NASA and DOD radars tracking the Shuttle during the critical navigation phase.
Through his work on the Shuttle Support Team, Dave was well-known as a Radar expert, revered both locally and internationally. In a retirement roast, Dave was recognized for significant contributions to the Shuttle program and for his exemplary work with Johnson Propulsion Labs, and Johnson, Kennedy, Goddard and Huntsville launch sites.
As a measure of the respect from his peers and colleagues, in 1990 Dave was awarded the coveted NASA Silver Snoopy Award by the Shuttle Astronaut Corps. This award is made to less than one percent of the shuttle team and honors the candidate's commitment to flight safety and/or mission success. Job performance must be outstanding, distinguish the individual in his or her area of responsibility, and must make a meaningful contribution to flight safety or mission success. The award was personally presented by Astronaut Curtis Brown, and Dave likened the experience to receiving a Super Bowl ring.
Dave and his wife Judy loved to travel and were fortunate to have travelled across the globe to exotic locales such as Antigua (where they met), Brazil, Australia, Cape Horn, Turkey, Russia and throughout the United States, Canada and Europe. After his retirement, Pop-Pop also could often be found in the company of his five beloved grandchildren, spending mornings and afternoons walking them to and from their elementary and middle schools in Indialantic. An accomplished musician and trumpet player, Dave always had a song to offer up to those around him.
Preceded in death by his daughter Karina Simonson of Indialantic, and two sisters, Nancy Simonson-Hanson and Barbara Simonson-Kennedy, Dave is survived by his loving wife, Judith Lynn; daughters Kristina Simonson-Losapio and Kimberly Simonson-Maynor; and grandchildren Mia Nogalski, Braeden Losapio, Gigi Losapio, Shelby Maynor, and Sadie Maynor.
Dave will receive a military honor guard at Cape Canaveral National Cemetery. A private memorial for family and friends is planned.
Please consider donations in his memory to Brevard Veterans Memorial Center, 400 S. Sykes Creek Parkway, Merritt Island, Florida, 32952
4 entries.
I knew Dave in mid sixties DownRange and also at the Cape where we both worked in Operations Control - he in Radar and myself in Comm. Dave was such a nice person to know and be around. So sorry to hear of his passing - RIP. Gene Pugh.
Dave was a great guy to work with indeed. I'll save those good memories of the ETR days - with a smile.
Dear Judy; Please accept my sincere sympathy on the passing of our dear friend. I met Dave in Antiqua in the late 1960's, where he taught me how to make charcoal and we have kept in touch via the internet these many years since I left RCA in 1982. Dave would send me messages of your many trips and his enjoyment of his retirement. I will miss him. Elliot
I worked for many years with Dave on the Eastern Missile Range, uprange and down. Dave was a great individual to work with and I learned a lot from him.