Dewey North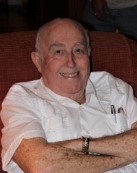 Born in Hyden, Kentucky March 7, 1933
Departed in West Melbourne, Florida on December 1, 2018
Dewey North, 85, was born in Hyden, Kentucky, March 7, 1933, and passed away peacefully at home December 1, 2018. Dewey served in the United States Marine Corps during The Korean War and enjoyed sharing stories of his travels and life in the Marines with everyone.
Following the war, he moved to Florida to work for Johnson Controls at Kennedy Space Center. After his retirement, Dewey enjoyed his time as a greeter at Walmart.
A member of Graceway Baptist Church, in Melbourne, he served as a Deacon for many years.
Dewey is survived by his wife of 15 years, Dorothy, his granddaughter Tiffany, his son-in-law, James Voyer, a sister, Ula Gross, and brother, James North, both from Kentucky, and many nieces and nephews. He was predeceased by his first wife Mary and their daughter Teresa.
The service will be held at Brownlie & Maxwell Funeral Home in Melbourne, Saturday December 8th. Visitation will be at 10:00 a.m. followed by the memorial service at 11:00 a.m. Burial with Military Honors will be held at Florida Memorial Gardens in Rockledge.
7 entries.
Many prayers for the family and friends of those who loved and were loved by Dewey.
Sending my deepest sympathy to all who knew Dewey. He was such a Godly man that I met at least 22 years ago at church. I will always remember the beautiful Christmas play that Mary North put together with her daughter Theresa at church, Dewey was one of the Kings.. Prayers to those who knew him. May God gives your hearts peace in knowing he suffers no more and to be reunited with his loved ones. 💜
What a funny, happy man! He will be missed.
With deepest sympathy and love for the family.You are forever in our hearts.
Prayers for your family. Jerry was a wonderful person.