Donald R. Emory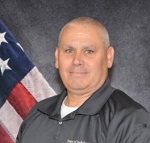 Born in 1964 in Paterson, New Jersey
Departed in Melbourne, Florida on January 27, 2020
Donald R. Emory, 55, of Melbourne, Florida died on January 27, 2020. He was born in Paterson, New Jersey, the beloved son of Bob and Karan Emory. He graduated with a major in commercial electric in 1983 from Passaic County Vocational Technical High School. He was a journeyman with IBEW local 102 and was a 20 year member – he's still waiting on that "two week call back". Donald also had many certifications in fire/rescue training and EMD/911 telecommunications. He grew up in Hawthorne, New Jersey until he moved to Hardyston, New Jersey after marrying his "love of a lifetime", Heather ne Boyer in 2002. He was her rock, human shield and greatest supporter.Donald often stated that his marriage to Heather was "two imperfect people that were committed to the roller coaster of life together."
Donald was an amazing father to their two children, Victoria "Munch" and Amanda "Punkin". He also loved their international exchange daughters, Vitoria, "Morticia" of Brazil and Alessandra of Italy. He was a very involved father who loved his girls very much. If they ever had a performance or school function he was right there cheering them on. There was never a question of how much he loved his girls and wife, they were "the loves of his life". He doted on and spoiled his furry sons, Mr. R. Bailey, Toby Cole, George and Pug-a-twany Phil. He found peace sitting with a large cup of coffee, reading his bible devotion, and petting his puggies.
Donald felt lucky to have a wonderful relationship with his mother-in-law (or mother-in-love as he liked to call her), Betty Boyer of Bradenton, FL that he enjoyed roasting, and yet always knew she was there when the family needed her.
He is also survived by many extended family members. He made sure people knew the love he had for his family.
Donald had a lifelong friend, Stanley "Tosh" Rembisz, whom he met as a freshman in high school and when he was a skate guard at Oakland Roller Rink. Their friendship turned to brotherhood as they got to know each other's families and friends. Donald played football and Tosh played soccer. They would show their support by attending each other's games. They had many adventures together including driving to New York in Tosh's car because his car had the "better stereo on three wheels". Tosh went on to bless Donald with a family to love that includes his "practically perfect" wife (until she got her first tattoo!), Tracey, and nephews he loved to rough house with, Jacob (his Godson), Matthew and Samuel. There were many memories made with shared vacations and visits to each other's homes. Support continued to be given when the hard times came – when Tosh's mom passed away and when Donald's father passed away. The great love Donald showed to his daughters was extended to all those in his close circle.
While Heather prayed for Donald's salvation, the Holy Spirit fostered a friendship between Donald and the Hardyston Fire Chaplain, Bob Meeker. Bob kept sharing the Gospel with Donald and Donald would decline but the seeds were being watered. Years later, after praying the sinner's prayer, Bob was the first call that Donald made to ask him to be his Godfather. Donald was baptized by Reverend Bob and Pastor Scott in the Atlantic Ocean after a tropical storm on October 18, 2016. He often joked and said it was rough to really clean his sins away. He became a "back row" member of First Baptist Church of Melbourne and became part of the Harmony Sunday School class. He never thought he was "worthy enough" but enjoyed serving as head coordinator of the medical alert team for the church.
Since 2017, Donald was a dedicated communication officer member the Indialantic Police Department. This was his dream job even during hurricanes just without pine nuts. He would jokingly say that he liked to tell the police officers "where to go and what to do with themselves". Prior to this position, Donald proudly held various other positions for Rockaway Township and Hardyston Police Departments, and security and communications for Walt Disney World. He also was a "smokin hot" firefighter for Mytle Beach Fire Department. He always felt it was a good day when his brothers and sisters in blue and red made it home to their families.
Donald held many volunteer positions, including the Hawthorne Ambulance Corps, Fair Lawn Heavy Rescue, Hawthorne Fire Company #1, and Hardyston Fire Department, where he served as Fire Chief from 2013- 2015. He was always made it a priority to have his crew returned home after a call. After moving to Florida, Donald retired from Fire and EMS services to spend more time with his family. He was a life member of NJ Fire Exempt Association, NJ Volunteer Fire Chief Association and Coastal Florida PFO, Space Coast HOG, Florida Hemophilia Association and Hemophilia Foundation of Greater Florida. He was also an active member in his daughters' schools and lives. Whether it was a doctor's appointment or classroom he always had their backs.
Donald loved to be free and float as well as play with his girls in the Atlantic Ocean while his wife was look in nearby with her toes in the sand. They all enjoyed Indialantic boardwalk beach therapy with Bizarro's pizza. Donald was an avid sports fan following the New York Yankees, New York Giants & Miami Dolphins. He loved the New Jersey Devils and watching golf, women's tennis and Olympic curling. He found great joy riding his 2002 Harley Davidson Firefighters Edition motorcycle with his honey on the back! He loved all different genres of music BUT RAP and would quote lines from his favorite movies in normal conversations.
He was disappointed to have stood at the bottom while roping off the twin towers in 1993 during the World Trade Center bombing and never got the chance to go in. He was grateful he got to dispatch Hawthorne Fire units to the staging area of ground zero on September 11,2001. He did plan to get to the 911 Memorial next time he traveled north.
Donald had a sense of humor that was out of this world. He always said he was "Donald Duck's 3rd cousin twice removed that's why he had no feathers". He could be very blunt and let you know what he was thinking. He touched the lives of many people. He will be missed by his family and friends but they know he is celebrating his life free from physical and mental pain.
Always thinking of others, he helped people (strangers and those known to him alike) because it was his nature and he was shy about the accolades. His last physical gift was the donation of his eyes and tissues.
The first Celebration of Life service will be held Saturday, February 15th at Noon, at First Baptist Church of Melbourne, 3301 Dairy Road, Melbourne, FL 32901 A reception will follow in the fellowship hall.
The second celebration of Life service will be held March 14 at Noon at Christian Faith Fellowship Church, 3188 Route 94 Franklin, NJ 07416. A reception will follow in the fellowship hall.
The family requests first responders and military wear their uniforms and all others wear patriotic colors to reflect Donald's love of our country. The family also request that those in attendance, please limit the use of cologne and perfume due to the extreme allergies of family members. Additionally, due to those allergies, in lieu of flowers, Donations may be made to www.firstrespondersbible.org. Alternatively, donations may be made in Donald's memory to First Baptist Church of Melbourne or to his children's college fund sent to Heather Emory C/O IPD 220 5th Ave, Indiatlantic, FL 32903.

17 entries.
On Behalf Of Obsessions Car Club please accept our condolences. Rip Don Please give your mom and dad a hug for us. We will keep the whole Emory family in our prayers
To Donald's girls, I am so deeply saddened for your loss. My heart is so heavy for all, But We do not end our tears empty for Your dad your husband Donald is in the presence of His Savior, I will see you in March. God bring you all the comfort you need during this time of sorrow. Elmers Family is praying for you
Love and prayers to you all during this time. Donald loved his family so much, so I know He is still protecting them from above. May the Lord bring peace and strength, and remembering of all the blessed memories you all shared together!
I'm so sorry for your loss! I love you Heather and you can call me anytime! I'm sorry I missed getting a chance to know him but it is the absolute best thing in the world to have my sister. Love You Always, Your Sister Cathy
May God be with you and your family during this difficult time. Donald was an amazing man, father and husband. He would be so proud of how you honored him this day and always. God be with you and the girls always. Aunt Arlene
Donald, I'll miss your reluctant hugs and smiles. I guess Heaven's security team has been increased by one very able angel! Wish you could have waited a while longer, but God must have needed you there. We love you. Carol and Greg
Our prayers are with you and your family
An amazing man with an amazing family. Our prayers are with you.
You were a good friend and a Great father. Love and Light to you my old friend. And blessing upon your wife and children
Our deepest sympathies to you Heather and your sweet daughters Victoria and Amanda. May God provide you with peace! Lovingly, Walt and Teresa
Fly with the angels Donald. A very beautiful tribute. We may not of had much contact all these years but I'll always remember when we were little and would play in the sand down the shore. God Bless your family and friends as they mourn your loss. My deepest sympathies. Cousin debbie.
A beautifully written obituary for a beautiful person who went beyond the call of duty for family and co-workers. And today, He is walking with Jesus! Our heartfelt sympathy for the family we love as God, their heavenly Father will also care for them! May He supply every need for each of you! We love you!
RIP my Friend... Your "Uber Driver" has your back... ??
What a beautiful description of Don! Nothing left to say except It was my honor and privilege to know you and have Karl at your side on fire calls. You were an incredible friend to us ! You will be missed Don❤
What a lovely tribute. What a wonderful man. May he rest and peace and God watch over you and your family.
Oh donald, we are gonna miss you sooo much. You always made my day when you commented on my twitter posts. You were a good friend and fellow first responder to all that knew you. I still cant believe ur gone... love carla bobby and alex Castro