Eddie "Mimi" Walters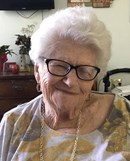 Born in Sandersville, Georga on October 31, 1923.
Departed in West Melbourne, Florida on April 19, 2018
Eddie Walters, 94, departed this life on April 19, 2018 to sit at the feet of her Savior. Born on October 31, 1923 to the late John David and Dovie Garner of Sandersville, Georgia.
The beloved wife of her childhood sweetheart the late Edward Walters, she is reunited with him & her sons, Edward (Laura) Walters, Jr. & Wayne (Debbie) Walters. Mimi leaves behind her daughters, Lynn (John) Eichin, Margie (Bob) Clore and Ruth Thompson and a brother, Robert (Diane) Garner of Cochran, GA
This sweetest of souls counted among her blessings 22 grandchildren and 31 great-grandchildren. She was loved by all and will be dearly missed.
Being assured of her salvation, she shared with all she knew she would not cross Jordan alone and one day her family would all be seated together at the feet of Jesus.
Services will be held at 4 PM on Sunday, April 22, 2018 at Harbor City Baptist Church in Melbourne, Florida.