Edward J. Richard, Sr.,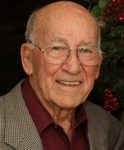 Born on February 20, 1927 in Cullman. Alabama
Departed in West Melbourne, Florida on December 18, 2019
Edward J. Richard, Sr., 92, passed away on December 18, 2019, after a lengthy illness. Born in 1927 in Cullman, Alabama, he spent his childhood in Cincinnati, Ohio, along with his nine siblings.
Ed leaves behind the love of his life, his wife of 66 years, Ruth. He was a dedicated, loving family man and fathered four children: Debbie Richards (Russ); Pam Anastasio (Toby); Eddie Richard Jr.; Eric Richard (Lea Anne). Grandchildren: Toby Anastasio, Jr. (Sheri); Ryan Walski (Crystal); Eddie Richard III; Tanya Donoghue (Billy); Chad Richard (Shelly); Justin Richard (Kristina); Jacob Richard (Jenni); Rachel Nicholson (Zachary); Falon Brown (Chris); Brandon Williams; Hannah Richards-Whitesell (Zack); Logan Richards; and the late Tara Marie Westerman. Ed also leaves fifteen great-grandchildren.
Ed enjoyed a full and happy life. He served in the Merchant Marines from 1947-1953 and traveled the world. He never tired of sharing the adventures he enjoyed during his service.
He and Ruth founded Richard's Paint Mfg. Co., Inc. in 1953 and grew the business until their retirement. He had the pleasure of watching his legacy continue to grow and thrive in the hands of his children: Eric, Eddie, Debbie and Pam, as well as grandchildren: Justin, Chad and Eddie III.
Ed had a wonderful sense of humor and enjoyed playing pranks and joking around with his family, friends and even strangers.
His years in the Merchant Marines left him with a love of the water and a sense of adventure. He traveled the world with Ruth, his children and grandchildren. For weeks on end they enjoyed sailing the Bahamas and fishing in the Keys as well as winter on the slopes of Colorado and Tahoe. He also loved his RV and traveled to every state in the country including Alaska.
Ed will be missed by all who knew him: family, friends, employees and life-long customers.
In lieu of flowers, memorials may be directed to the Hospice of St. Francis, 6905 N Wickham Road, Suite 403, Melbourne FL 32940. A private Celebration of Life service will be held by the family after the first of the year.
15 entries.
What a wonderful man! Both he and Mrs. Richards visited our store in Culpeper VA as the traveled in their RV across country. Much to my delight I found them both kind and down to earth; humble and rejoicing in the hard work they both loved and now had the opportunity to travel and meet the people that supported their company. The greatest generation! I shall miss him.
We are delighted that we had the opportunity to share with Mr. Richards as a dealer of his Richard's products and services. He was an honorable man who valued people first. The Paint Place family mourns his loss and extend sincerest sympathy to the Richard's family. His legacy will live on in those he has left behind. Grant unto him eternal rest Oh Lord and let perpetual light shine upon him.
To the entire Richard family, My deepest condolences to all of you, Mr Richard was an amazing man. My heart is with each and every one you. Love, Michele Peacock Knott
I enjoyed meeting Ed at the MidSouth show many, many years ago. He was so much fun to talk to. I loved his enthusiasm, zest for life and twinkle in his eye. He will certainly be missed in the paint industry and especially at the ALLPRO shows. Prayers and peace to his family. Anne Dages, Dages Hikes Point Paint & Wallpaper - Louisville, KY
We were so blessed and fortunate to have met Richard and his family. His family is a beautiful extension of him. His humor and attitude were amazing!!!
One of the most wonderful men I've had the pleasure of having in my life. Love you Ed(Dad)
I am so sorry. I hold many many memories of your dad and mom and the family snow trips we were invited to join. Your dad lived a long great life. He was so thoughtful and I will always feel like a member of your family. Praying for everyone. Candi
I am very sorry to hear about Ed Sr passing , sending our thoughts and prayers .
My deepest sympathies to the entire Richards family. You are all in my prayers. Rich Hoefle (Dealer) Home Town Decorating Paducah, Ky
Very sorry for your loss - my thoughts & prayers to you & your family.
It is an honor to be associated with the RIchard's family. The wonderful impact Mr. Richard has had on the lives in our family over the past 30 years will never be forgotten. May the peace of God be with the family during this time of remembrance.
Edward J Richard III, Edward J Richard IV, Breana Berkebile.
Ed Richard always had a few words of wisdom, he was a great example to us all. He lived the American dream. RIP dear friend I will always remember are conversations. I bet God will put you in charge of paint for the new Jerusalem.
My condolences to Ruth and the Richard family. Ed always had a smile on his face, twinkle in his eye and a humors wit that every body liked
Mr. Ed was like a father to me, if I asked advice I got it good or bad. I will miss my talks with him.