Elizabeth Barclay Poling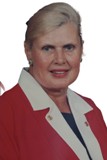 Born in East Orange, New Jersey on May 10, 1931.
Departed in Indialantic, Florida on July 22, 2018
Our loving mother, Elizabeth Barclay Poling, of Melbourne Beach, FL, died peacefully Sunday, July 22, 2018, at Generations on the Beach in Indialantic, FL. She was born in East Orange, NJ, on May 10, 1931, daughter of Isaiah D. Barclay and Gladys S. Barclay. She was the wife of the late Edward Leonard Poling, to whom she was married for 62 years.
Known as 'Betty,' she grew up in the town of Cranbury, N.J., where she graduated from The Cranbury Elementary School. She then attended Hightstown Jr. High School before entering The Knox boarding school in Saint James, NY. After The Knox School, she went on to Briarcliff Junior College in Briarcliff Manor, NY, and then graduated from Dickinson College in Carlisle, PA, in 1952 with a Bachelor of Arts degree. At Dickinson, Betty was in the Chi Omega sorority and was very active in women's athletics (field hockey, volleyball, basketball and track), as well being on the Dickinsonian newspaper staff. In 1953, Betty married Edward Leonard Poling in Cranbury, NJ. As fate would have it, Edward saved Betty from the rough surf of the Jersey Shore while lifeguarding in Manasquan, during the summer of 1949.
Betty and Ed went on to have four sons, Barclay (Lindy), Daniel (Beth), Jackie (Alison) and Clark (Stacey). She was a wonderful mother and always so full of life and compassion for others. As the family documentarian, Betty was famous for her annual family newsletter at Christmas. She was also a renowned cook, and will always be remembered for bringing delicious meals and applesauce cakes to friends and people in need. She was the personification of a kind and giving person. Her laugh made the day sweeter!
In their Florida retirement years, Betty and Ed especially enjoyed biking together and regular visits from their seven beautiful grandchildren, Ashley, Chelsea, Max, Kelsey, Spencer, Colby and Kaitlin. She was predeceased by her husband (June, 2015).
A Memorial Service will be held at the Eastminster Presbyterian Church, Indialantic, FL, on Saturday, August 11, 2018, at 10 am. The family would be grateful for memorial contributions to the Memorial Sloan Kettering Cancer Center or Eastminster Presbyterian Church.