Ethel Wilson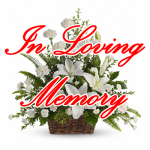 Born in New York, NY on August 13, 1922
Departed on January 26, 2018 in Palm Bay, FL
Ethel Wilson passed away January 26, 2018 at Palm Bay Hospital, Palm Bay, Florida. She was born in New York City, Aug. 13, 1922 to Edwin and Geneieve Dobbin. Ethel spent most of her life in New Jersey and attended Weehawken High School where she met and married the love of her life, George Wilson, who passed away in April of 2016 after 69 years of wedded bliss. She spent the last 30 years of her life in Palm Bay, Florida. She is survived by a daughter Joyce Wilson, a son Bruce Wilson, a son and his wife Gregg and Gabrielle Wilson with granddaughters, Alexis and Victoria.
Ethel's business career was always a joy to her and she worked extensively as a bookkeeper and administrative assistant. She retired after many years as Administrative Assistant to the Purchasing Director of Rockwell Collins.
Ethel was a special type of person. A Saint to all her family, always giving of her time and being a comforting influence when her family needed someone to listen with their heart. Ethel will be missed, but never forgotten.
A graveside service will be held on Thursday February 1sr at 11am in the St Josephs Cemetery.