Evelyn Ann Pasonski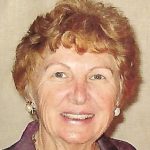 Born in Cleveland, OH on September 14, 1933
Departed in Melbourne, FL on April 9, 2018
Evelyn Ann Pasonski, 84 slipped into eternal life on April 9, 2018 at her home surrounded by love. She was born in Cleveland, OH on September 14, 1933. She was the third child of Michael and Mary Slotto. The family relocated to Grand Rapids, MI when Evelyn was 3 years old. She graduated from Catholic Central High School in 1951. They later relocated to Fremont, Ohio in 1952 where Evelyn met George Pasonski while he was home on leave from the Navy. They were married in 1955 and lived in Lafayette, IN where George graduated with a bachelor's degree in electrical engineering from Purdue University. After graduation their family relocated to Los Angeles, CA until 1961, when George accepted a position with Pan American at Patrick Air Force Base, FL. Evelyn loved everything about living in Florida, especially the warm weather and beaches. In 1989 she accomplished her goal and graduated from Brevard Community College.
Above all, Evelyn loved God and her Catholic faith. In her words, "God is good, no matter what." She was an active member of Our Lady of Lourdes Catholic Church. At OLL Evelyn was grateful for Fr. Karl Bergin, the daily 8:15 a.m. mass bunch, volunteering for the "golden goose" readers at the school, the Third Order of Mary and the Renew group. The Council of Catholic Women (CCW) ladies greatly enriched her parish life. She was also proud to be associated with the Florida Tech (FIT) campus ministry. She looked forward to going to the Brevard Correctional Facility every Saturday for 20 years, as she got back much more than she gave.
Evelyn treasured working at Harris Corporation in word processing, and then in the legal department. The Harris retirees association put a lot of fun in her life, and she looked forward to the meetings, and taking and publishing the minutes. The highlight of her week for many years was "Mimi day" with her grandchildren and the weekly "happy hour" with long time neighbors and friends. She very much enjoyed seeing her friends at the Pro Health gym and balance class. Evelyn also loved line dancing with the girls at Tropical Haven and being a "Friend of the Melbourne Library" and working at the book sales.
Evelyn will be remembered as a loving wife, mother and grandmother. Her generous good nature made her a friend to many. She was a wonderful blessing to her family and friends through her daily actions, which were thoughtful, giving and caring to those around her.
More than anything, Evelyn loved her family. She is survived by her daughter Connie Morrell and sons Barry, Tim (Kim), and Dale (Corynne).grandchildren, Rob, Patrick and Tyler Rauch, Jessica, Ryan, Christine, Reagan, Nick and Matt Pasonski and Alex Morrell, great grandchildren, Robby, Ryan, Lila, Evan and James Rauch, brother, William (Carol) Sun and many dear cousins, nieces and nephews who brought such joy to her life.
She was preceded in in death by her parents, husband George, daughter Sandi Rauch, brother Gene Slotto, and sister Polly Eberly.
Evelyn's family would like to thank Hospice of Health First, especially Jo Ann for the kind and compassionate care she received.
Visitation:
A Funeral Mass will be celebrated on Thursday April 12th at 11:30am in the Our Lady of Lourdes Catholic Church with calling one hour before the Mass.
Donations can be made to: Our Lady of Lourdes Catholic School, 400 Fee Ave., Melbourne, FL 32901
1 entry.
One of the best individuals I have ever met in my life she was such a great person, especially how she helped my my mother when she was so much struggling at the end of her days. I know she's in heaven!!