Evelyn Covella Gay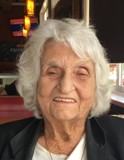 Born in Brooklyn, New York on August 13, 1935
Departed in Melbourne, Florida on December 22, 2018
Evelyn Covella Gay (Zayas) 83 of Melbourne, Fl passed away December 22, 2018 surrounded by her family. Born in Brooklyn, NY on August 13, 1935. Working many years in Jacksonville Fl as a Barber and at K-Mart before retiring to Barefoot Bay in 1994. While there she worked at Winn Dixie and Walmart. 2004 after losing her home to the hurricane she moved to Melbourne with her daughter. Evelyn is preceded in death by her parents Rafael & Catherine Zayas, brother Petty Officer 1st Class Frank Zayas (USN), spouse GySgt Joseph Covella (USMC KIA Vietnam), Son SSgt Joseph Covella, Jr. (USMC), granddaughter Alex Romero. She is survived by her children Grace Heusinkveld, Roxanna Barnes, Ralph Covella, Hopelee Owens (Randy Ecker); John Gay (Michele), Daughter-in-law Mary Covella. Evelyn (aka BIG G) had many grand, great grand, and great great-grandchildren. She was always so proud to be associated with the U.S. Marine Corps and other services and for having 2 children retire from the Marines, 1 son serve in the Navy, 1 grandson retire from the Air Force; 2 grandchildren who served in the Marines and Army; 2 great grandchildren who served as Marines and 2 great grandchildren now serving in the US Marines and Air Force. She was active with the traveling Vietnam Wall when it came to Melbourne every year (spending countless hours at the site), Toys for Tots, displays at Walmart honoring veterans during Memorial Day and Veterans Day, A member of the Gold Star Family, Spending more than 65 years volunteering with different military events and organizations. Evelyn never met a stranger. She was always willing to give to those in need. Crocheting Baby blankets to making diaper cakes for baby showers. In her early years she would sew and make dresses for her daughters for Rainbow girl events. She could always be counted on to be there and helping. She was loved by many. Mom/Big G "Rest in Peace. We will always love you, God Bless."
There will be a Celebration of Life on January 5, 2019 @ 2:00 – 5:00 pm VFW, 4130 N. Harbor City Blvd, Melbourne, FL 32935 In lieu of Flowers the family ask that you make donations in memory of Evelyn Covella Gay to Veterans Transitional Facility 700 E. Fee Ave, Melbourne Fl 32901 or Five Star Veterans Center 40 Acme St., Jacksonville, Florida 32211. Donations of items (personal hygiene and cleaning supplies) can be brought to the Celebration of Life.
A private family inurnment will be scheduled at a later date at Arlington National Cemetery, Arlington, VA.

10 entries.
Roxanne and family we are truly sorry for your loss! There was never a challenge your mom did not conquer! She was one of the kindest, compassionate and loving spirit I have ever met!!! We will continue to lift your entire family up in prayer. Love You, Randy & Deb
Ms. Evelyn (Ma, Big G) was known to all of us who worked the Wall and the stage at the Annual Reunion, but I write from Doc and I, personally. For more than 25 years, she has been our surrogate mom (as she was for many), but she always made you feel like you were the only ones. She loved on us, helped us, made us laugh, and we hope, in the end, we did the same for her. After seeing her last reunion and having her sunsetting and not recognizing us, we knew it wouldn't last. I've had one reunion without my Ma, but this one will tear me apart. We share our prayers for Gods grace for the family, as our sadness is minimal in comparison. None of us will be the same without her but, take a page from Ma, get out there and do something for someone, even if they can't say thank you to you. Our thanks come in our next journey. ❤️❤️
Grandma you were a true hero to everyone to knew. We will always remember the things you taught us. Your at peace now and with the love of your life. Keep dancing Lady...... I will miss you every day. I love you grandma
May God light the path to Heaven and may you Rest in Peace. You will be missed by many and loved by all. Condolences to the family, may you find peace in knowing she is with the loves of her life..God Bless
There are no words to describe how much you are missed. I'm the luckiest person to have been blessed with you for a role model and example of how to serve others. Dignity, respect,care,and kindness are always how I will live because of the example you set. There wasn't a person who met you who didn't love you. I will always see you in my children's smiles, and hear you in their laughter. You are the one person who never made me feel like I failed, I love you Grandma and miss you more than can be explained Semper Fidelis
I am so very sorry to hear of your Mom's journey to soar with the Angels. Just know that we are thinking of you and your family.
We will miss seeing pictures of Evelyn aka Big G on Facebook that Grace would always post. She seemed to always know how to have fun ! God bless her. Lord bless.
We love you and miss you everyday Big G. You were so special. My kids could not have asked for a better great grandma than you
I miss you, friend. <3 There will never be another Evelyn Covella Gay in my life. <3
God bless you in heaven and prayers for strength and hugs to family and friends always in our hearts and memories thank you for the beautiful smiles that cheer us up forever