Evelyn E. Foster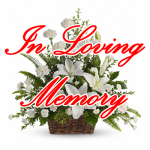 Born in Bessimer, Alabama on April, 11, 1928
Departed in Indialantic, Florida, on June 19, 2019
Evelyn E. Foster, 91, of Indialantic, FL passed away at her home on Wednesday June 19, 2019. She was a native on Bessimer, AL and a Housewife.
Survivors include her daughter Pam (AJ) Pont and grandchildren Kristen, Tracy and Nicole.
A memorial services will be Friday June 28th at 10am in the First United Methodist Church of Melbourne.
3 entries.
My condolences to the family of Evelyn Foster. I met her many years ago but unfortunately hadn't seen her in recent years. She was a very caring & sweet lady & it was a pleasure to have known her. My sympathy, Jane Watson
My deepest condolences to Pam and family. This community has been greatly enriched having a caring, generous Angel such as Evelyn in its midst. I treasure my 5 decades of friendship with her. RIP Evelyn
My deepest condolences to Pam and family. Evelyn was a wonderful friend to me for 50 years. She will be dearly missed in our community. Such a bright star and beautiful, giving lady.