Evelyn Huy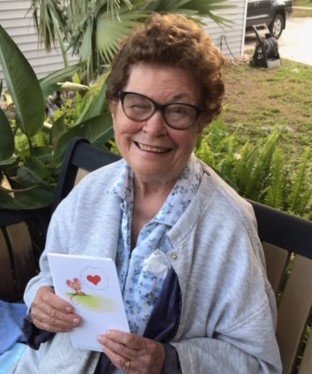 Born February 26, 1928 in Malabar, Florida
Departed April 10, 2022 in Melbourne, Florida
Evelyn Huy, 94, passed away peacefully on April 10, 2022 with family by her side. She was born in Malabar on February 26, 1928 to John and Helen Nord Vandewater and graduated from Melbourne High School in 1946. She married the love of her life, Andy Huy and they had 64 wonderful years together.
She enjoyed reading, sewing, singing, picnics and had the most tender heart for all of God's creatures, especially her precious kitties. Vacations spent in the mountains of North Carolina were always treasured family times and family was the most important to her.
As her beautiful smile beams down from heaven, we can't help but smile back…although through tears of sadness…mixed with joy…
She is survived by daughters Nancy (Bob) Perry and Lynn (Gary) Stevens; son Drew Huy; friend Glenda Lynn Huy; grandchildren Amanda, Rebecca, Greg, and Brian; great grandchildren Iris, Sylvan, Katherine, Christopher, Benjamin, Jake, Colette and Wesley.
She was preceded by her husband Andrew on April 25, 2013 and her sister Florence Huy on August 29, 2016.
Evelyn's service will be held on Saturday, April 23, 2022 at 10:00 am at Holy Trinity Episcopal Chapel, Melbourne.
In lieu of flowers, please donate to Holy Trinity Episcopal Church or a charity of your choice.
>