Frances Bartone Moberly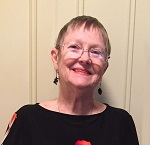 Born on July 9, 1943 in Newport News, Virginia
Departed on March 9, 2021, in Melbourne Beach, Florida
Frances Bartone Moberly, 77 of Melbourne, Florida passed away March 9, 2021. She was preceded in death by her parents Leonard M Bartone Sr. and Frances K Bartone, and a brother John P Bartone. She leaves wonderful memories to her children Missi (Rich) Wilkins, Stephanie Wolf, Tony (Melissa) Hartman, Tim (Nicola) Hartman and Warren (Nancy) Moberly. She was blessed with 14 grandchildren and 1 great grandchild. She leaves behind her sisters, Lenora (James) Atkinson and Rosanna (Gene) Self, and brothers Michael (Adonica) Bartone, Christopher Bartone and James (Vicki) Bartone, as well as a host of other relatives and friends who will miss her dearly. She had careers in Orlando, FL, Elkhart, IN, Ontario, Canada, and retired from Colonial Uniserv in Newport News, VA before moving to Indiana and finally to Florida. Frannie, as she was called by friends, was an avid Jimmy Buffet fan and member of the Parrot Head Club. Her enthusiasm for life was boundless. She enjoyed participating in the Polar Plunge for many years and was a life-long member of Beta Sigma Phi. A funeral celebration will be held in the summer. She will rest in the Ascension Catholic Church Memorial Garden in Melbourne.

12 entries.
Frannie was always willing to help and support everyone while working at Colonial UniServ. We missed you when you retired, but were glad you had a chance to enjoy your Jimmy Buffet and margaritas. Prayers, healing, and comfort to the family.
Missed you after you moved. I always enjoyed our dinners at Spring Garden after the VEA meetings. That restaurant is gone too but they were good memories.
She was a very warm person and will be sorely missed.
You were a phenomenally strong woman Always a smile You will be missed
Dear Frannie--you have broken my heart-- I miss you every single day--Thank you for the outings we did--there will not be another friend like you were!!
We all loved Frannie so much. She was so good at her job but more importantly she was a true friend to all sho loved her.
I am so sorry. Frannie was dear to us in Colonial Uniserv as well as an invaluable employee. I know she will be missed by all her friends and family.
Will miss your smiling face and love of life, friend, family and fun. I am thy sister.
I will miss my "older than dirt" (as we joked) long time friend and I enjoyed every visit we could fit in when I was visiting down in Florida after you moved there from Virginia. So glad I got to see you last year when I was down! RIP Frannie Moberly I will find you another day for a toast in Margheritaville! —
Rest in peace, Frances. You competed well: you finished the race: you kept the faith. 2 Timothy 4:7 💕💕💕
heres to drinking as many margeritas as you want !!!! its nice to know theres so many angles there too great you, sending love to ALL of the family