Frank Michael Facciobene, Sr.
On January 30th, 2023 Frank Michael Facciobene, Sr. passed away peacefully at Holmes Regional Medical Center in Melbourne.
Frank was born on December 9th, 1928 in Youngstown, Ohio to Irene and Donato Facciobene, one of seven Brothers and Sisters. He later met and married his wife of 70 years, Ann Elaine Mandoline. Despite his entire family residing in Youngstown Ohio, Frank left home in 1962 for the promise of Florida where he created a wonderful life for his wife and children. He built his house in six weeks and worked as a Craftsmen Painter and Drywall Contractor traveling the State. He later founded All Florida Paint Decorating Centers and created an Interiors showcase not yet seen in the industry at that time. He also started a buying group for other Independent Paint Store Dealers across the Southeastern United States, which led to a national chain of like minded retailers. Upon his retirement he embarked on many pursuits including Investor, Developer and advisor. He was a man before his time.
He was a member and Past President of the Melbourne Rotary Club and a Champion of the Rotary Foundation for 50 years until his passing. Every member of his family is Paul Harris Fellow as recognized by the Foundation. He was a member of St .Joseph's Catholic Church and served on both the Finance Committee and as an Usher for many years.
Smart, caring, loving, generous, honest and fearless describe him but he cherished his family above all other and his family will greatly miss his love and guidance.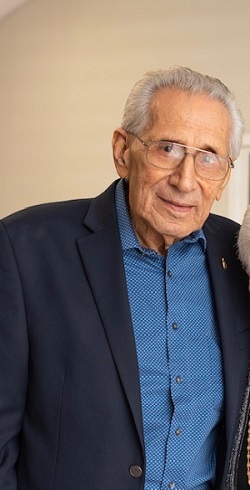 He is survived by his wife of 70 years Ann, his children Frank, Jr (Sally), Ann Marie (Dan) Schwarz and Don (Darricca), 10 grandchildren and 7 great grandchildren.
A Catholic Mass will be held at St. Joseph's Catholic Church in Palm Bay on Friday February 10th at 1:00 pm. A viewing will begin one hour before at 12:00pm.
I lieu of flowers, the family requests donations to Rotary Foundation, c/o Melbourne Rotary Club, PO Box 997, Melbourne, FL 32902.

9 entries.
Frank was a wonderful man and very supportive of the Melbourne and Rotary communities. He will be missed. He left behind a wonderful legacy.
My first boss in Florida… Gave me a start in the paint business… A career that lasted 40 years
Here is the link to donate to Rotary Foundation: https://my.rotary.org/en/donate
He was always so kind to me when we would see him at Christmas and thanksgivings. He is why the Facciobene's are such a wonderful and beautiful family. This is a beautiful story.
Sending prayers to the Facciobene Family at this very difficult time.
My deepest sympathies to Frank's children and family. Frank and Ann were my sister Nancy's Godparents. I still live in Campbell, Ohio. My sister was born in 1955, she now lives in Hubbard Ohio.
Stephanie and I have your family in our thoughts and prayers.
Frank was friends with my dad, and was my friend. Such a good example for all of us❤️
Cheryl and I are so sorry to hear about Frank, Sr. passing. I personally have many fond and funny memories of him. Both Cheryl and I pray for peace and comfort for all of the family. He will be greatly missed by many!