Frank R Knauf Jr.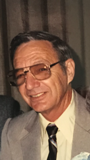 Born in Punxsutawney, Pennsylvania on March 27, 1935.
Departed in Melbourne, Florida on October 26, 2018
Frank R Knauf Jr, 83, of Melbourne, Florida, passed away on Oct. 26, 2018, peacefully with his family at his side.
Frank is survived by his beloved wife of sixty years, Anna, children Howard (Debbra), David (Isela), Frank III, Tina (Eric) Loenichen, Valerie Runyon, Nancy Petratuona, Della, and Sonja (John) Apfelthaler, thirteen grandchildren, three great grandchildren and a large loving extended family.
There will be a Celebration of Life 10:30 AM November 3, 2018 at Ascension Catholic Church 2950 US1 Melbourne, Fl.
The family requests in Lieu of flowers a donation to St Jude Children Hospital in honor of Frank Knauf Jr.
2 entries.
Even though I never understood why you were always hard on me as a kid, I understand now that you were trying to build character within me and I am forever grateful. I will miss you.
Daddy You will be missed and we love you.