Frieda Smith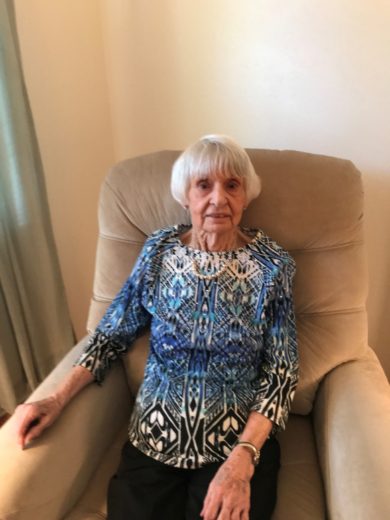 Born on October 12, 1925 in Pearisburg, Virginia
Departed on June 4, 2021 in Palm Bay, Florida
Frieda passed away at William Childs Hospice House on June 4, 2021 in the arms of Jesus. She was born in Pearisburg, Virginia on October 12, 1925.
She resided in Melbourne, Florida for 63 years. She was predeceased by her husband of 40 years William "Bill" Smith. She is survived by one daughter Pamela Smith and several nieces and nephews.
Frieda worked at Jordan Marsh in Melbourne, Florida as sales associate for 10 years. Frieda was a caring and loving wife and mom. She will be remembered for her sense of humor, her kindness and her love for friends and family. Her daughter would like to thank the staff at William Childs Hospice House who handled my mother's care with professionalism, compassion, and sympathy. She will be missed by many friends, family and her cat "Prince".
In lieu of flowers, the family requests donations to St. Jude's Children's Hospital or William Childs Hospice House. A celebration of life will be held at a later date.
3 entries.
I met Frieda when I was 20. I'm a little bit older now, but the memories I have of sweet Frieda will be treasured forever. Pam and I have been friends for 40 yrs. My best memory is going over for dinner on Wednesday night and Frieda making the best dinner on the planet. She will be missed.
Aunt Frieda and I had a special bond I was born on the same day as she Oct 12th we have always been close I have lots of memories from my child hood of vacationing at there house in Fl her and Uncle Bill hold a very special place in my heart and are both very special people I will miss you and always love you both this will hit me all again come Oct 12th we always shared a phone call on our Birthday Love you Aunt Frieda reset in peace..
Pam, I'm so sorry to hear about your mom! She was such a sweet lady. My mom enjoyed meeting her thru church & seeing her there. Love & prayers, Terri Bird Bowyer