Gaston Monroe Corley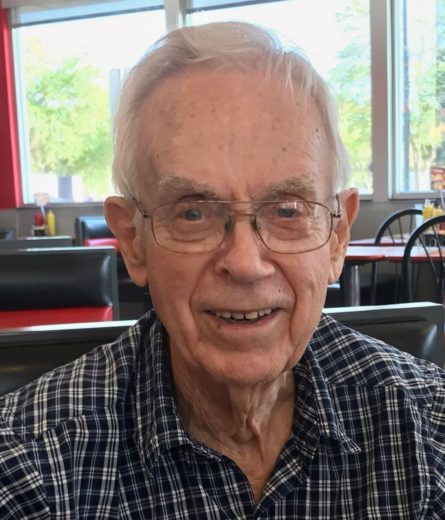 Born on July 17, 1927 in Mt. Olive, Mississippi
Departed June 12, 2022 in Palm Bay, Florida
Gaston Monroe Corley, 94, of Melbourne, Florida passed on June 12, 2022 in Palm Bay, Florida. He was born in Mt. Olive, Mississippi on July 17, 1927 to William Franklin and Ruthie Sullivan Corley.
He served honorably in the US Army during WWII for two years.
Gaston was preceded in death by his wife of 67 years, Bennye Carolyn Corley. He is survived by his son, Dan (Janet Muscari Corley) Corley; daughters Deborah Corley and Catherine (Brian) Klein; grandchildren Holly Parker, Rachael Corley, Kristen Louidor, and Evan Corley; and great grandchildren Eva and Aiden. Our father was a man of faith and prayer; a wonderful provider for all his family, and loved by all who met him.
You will be dearly missed until we all join you in Heaven, Daddy.
Visitation will be Thursday, June 16, 2022 from 3 pm until time of service at 4 pm at Brownlie-Maxwell Funeral Home, 1010 E. Palmetto Avenue, Melbourne.
7 entries.
My sweet Uncle Gaston was the most wonderful, caring person. He always took time to listen to people and to make them feel special. He was too humble to ever admit this, but he was always the smartest person in the room. He raised an amazing family and leaves a legacy of love.
Gaston will always be in our hearts. We loved him like family and his Fountains family sends our prayers.
Mr. Corley was truly loved and will be deeply missed. It was such a joy to have him as part of our Fountains Family. Heaven is sweeter today because he is there. Love and prayers to his family and friends.
Mr. Corley was a wonderful man who was such a joy to have as part of our Fountains family. He was greatly loved and will be truly missed! Heaven is sweeter today because he is there. Thoughts, love and prayers for those he left behind.
Dear Dan, Catherine and Deborah, Kendra and I are very sorry for you loss. Your dad was one of the nicest people that we ever met. We enjoyed seeing him when we were down visiting in Florida. He was a loving person who loved his family. He took great care of your mom especially as she got older. There are not enough kind words that I can use to describe the quality of the man Gaston was. He was sincere, loving and much, much more. May he rest in peace. We know that he is in heaven looking down upon us today. You were very fortunate to have Gaston as you dad. Ken and Kendra Klein
Dear Dan, Catherine and Deborah, We are very sorry for your loss. Your dad was one of the nicest people that we ever met. He was a true gentleman. He was fun to be around. He was committed to his family and was a loving and caring person. He cared about people. I am sure that he was a wonderful dad and he took great care of your mom. We all know that he is in heaven looking down on us. May he rest in peace Ken and Kendra Klein
Our condolences on the loss of your father. He was a very sweet neighbor and we enjoyed spending time with him. We will remember him fondly. Terri & Earl Gehringer