George Henry Chadman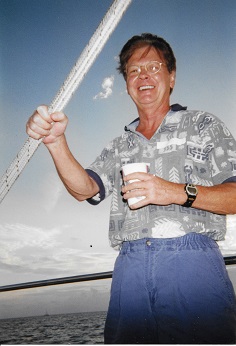 Born on April 29, 1941 in Lamartine, Pennsylvania
Departed on May 6, 2021, in Melbourne, Florida
George Henry Chadman was born April 29, 1941 in Lamartine, a small village in Pennsylvania. He grew up working on farms and graduated from Keystone High School. He continued his education at Penn State where he earned his Bachelor's degree in Industrial Engineering. He began his career as a plant manager, designing and bringing new plants online. After a successful time in this field, he decided on a change of pace, hopped in his VW van with his dog Dragon, and drove to Miami Beach where he bought and operated a boat rental business at the Carillon hotel in the early 70s. He then worked as an Industrial Engineering Manager and later became a stock broker in Miami Beach.
He married Mary Vendetti in 1974, and moved to Melbourne, FL in 1978. There he opened, owned and operated the American Barter Exchange in Palm Bay. After that endeavor, he joined McDonnell Douglas in Titusville where he worked again as an Industrial Engineering manager for the Tomahawk cruise missile program for 13 years, while he earned his MBA in Aviation from Embry Riddle University. When the Titusville plant closed he was transferred to corporate headquarters in St. Louis where he served as a financial analyst until he took early retirement at age 56, and moved back to Florida to be closer to his children where he joined Northrop Grumman until he retired at age 62.
Over the years he bought and managed several rental houses. He enjoyed skiing, running, fishing, reading, socializing with the Trailblazers club, and doing research on his stock portfolio. He is survived by his three sons Christopher, Nicholas, and Jonathan Chadman, who live in Palm Bay; grandchildren Brittany, Makayla, and Donovan Chadman; and great granddaughter Hayden Hoaglund.
His Melbourne, Florida calling hours will be Wednesday, May 12, from 4-6 pm with a 5 pm service at Brownlie-Maxwell Funeral Home, 1010 E. Palmetto Avenue, Melbourne, FL 32901.
His Knox Pennsylvania service and burial will be Saturday, May 15, from 10-11 am, at William N. Rupert Mortuary, 430 Mendenhall Avenue, Knox, PA 16232. Tel: 1-814-797-1233
12 entries.
My mother was Judy Chadman. Daughter of Pete and Lucy Chadman. I am seeking any relation to pass on family history. Any one who is or was a Chadman is of the best character.
George was one of the nicest men I have know. He always had a smile , a compliment and a hug to share. I will miss George as will everybody that knew you. Gina
We will miss your happiness and presences. You always had a funny comment when we got together. We will always remember our weekly Friday night group outings. You will be missed by many. Abundant blessings to your family. Bob & Darlyne
Had many a great times with George over the many years spent together in Trailblazers. You will be missed by allot of people. You are a wonderful soul.
I met George in the Trailblazers Club in 2002. He always had a smile and was very welcoming. I will never forget one evening when George and another Trailblazer named Rose were walking side by side having the funniest conversation because every bit of it was not true. But they played off of each other beautifully...one making up something and the other instantly responding with more falsehoods that sounded so real. Those who didn't know them believed every word they were saying even when they talked about getting married. It was really a beautifully done ad lib comedy routine. Rest in peace sweet George.
I love you great grandpa. Even though I did not meet you I know you are here with me. You are my angel. Always in my little heart Your great granddaughter Hayden
Uncle George, I love you and will miss you. <3
Dad, We love you so much. You are an amazing man. We miss you so much.
Dad i love you and I miss you.
RIP George, you will be missed 🙏🏻
I met George through the Trailblazers 15 years ago. One night everyone was meeting at Fishlips and i showed up with friends from new york. George found 3 chairs so we could all sit together. That was George. Always accommodating. He always had a huge smile for everyone. The sweetest soul. God got a good one.
I had many years of fun times with George including running the Melbourne Art Show 5K. George, you will be missed.