George Michael Collins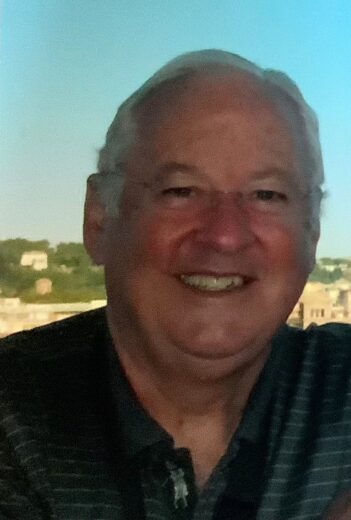 Born on October 1, 1940 in Boston, Massachusetts
Departed March 22, 2023 in Rockledge, Florida
George Michael Collins passed away peacefully on March 22, 2023 at 82 years old. He grew up with his two brothers and two sisters in Belmont, Massachusetts. He attended Tufts College and Northeastern University, played baseball and hockey, and graduated in 1964.
He married the love of his life, Ann Griffin, and together they built a life filled with love, travel, and memories. The two of them and their two boys made several moves across the country as he moved up the corporate ladder, living near New York City, Kansas City, Ann Arbor, Anaheim, Corning, Indianapolis and Naperville, Illinois. He had a vibrant and successful career in sales and management, mostly at Corning and Rykoff-Sexton, culminating as VP and President of his various divisions. In retirement he lived in Santa Fe, New Mexico and Vero Beach, Florida.
George excelled at many recreational sports, enjoyed collecting art and historical artifacts, was a big fan of the Boston sports teams and the Dallas Cowboys (just kidding!), and volunteered for many concerns. George loved to have a good time and make people laugh. He lit up the room wherever he went, and was the life of every party. He will be sorely missed by all that knew him.
He is survived by his son Jeffrey of Naperville, Illinois, and many adoring nephews and nieces, as well as a multitude of friends and relatives. He was preceded in death by his wife Ann, brothers Jim and Joe, sisters Polly and Kit, and son Pete.
Special thanks to the great staff at Vitas Hospice, as well as the staff at Alura Senior Living.
A service to honor his life will be held for family in Melbourne on April 15, 2023. In lieu of flowers please consider a donation to Little Friends (Naperville) at 27555 Diehl Road, Warrenville, Illinois, 60555 (an excellent non-profit serving those with developmental issues, Autism and Downs Syndrome)… and possibly raise a glass to George's memory.
1 entry.
We'll all miss Uncle George. He was fun, sharp and larger than life. RIP George.