George "Red" Roberts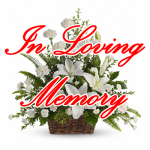 Born in Newton, Mississippi on June 11, 1929
Departed in Palm Bay, Florida, on July 1, 2019
George Ervin "Red" Roberts, 90, of Melbourne, FL passed away on Monday July 1, 2019 in Palm Bay. He was a native of Newton, MS, a retired Electrical Engineer and a member of the Back Country Fly Fishing Club. He was an avid fly fisherman and enjoyed tying flies.
Survivors include his wife of 57 yrs. Mary Jacobus Roberts, sons Patrick Ervin and Timothy Dale (Holly), and a sister, Betty Vermilya. He was predeceased by his brother, Grover.
A memorial service will be Saturday July 27th at 2:00pm in the First United Methodist Church of Melbourne.
Donations in his memory may be made to the Brevard Zoo.