Georgianna Caroline Fraser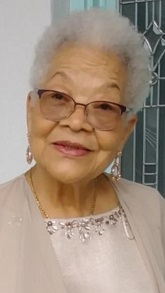 Born on July 22, 1937 in Newell, St. Elizabeth, Jamaica, WI
Departed on July 14, 2021 in Melbourne, Florida
Georgianna ("Aunt G") Caroline Fraser of Palm Bay, Florida passed away on July 14, 2021 at Holmes Regional Medical Center.
Georgianna and her husband, Seymour ("Uncle C") lived in New York but moved to Florida after they retired. She was a member of the Holy Trinity Episcopal Church and a staunch member of the AARP and the Democratic Women's Club of Palm Bay.
Georgianna was predeceased by her loving husband. She is survived by her son, daughter-in-law, grandchildren, two brothers, and a host of relatives and dedicated friends.
A celebration of Georgianna's life will be held on Saturday, July 31st, 2021 at 10:00 a.m., at Holy Trinity Episcopal Church, 50 Strawbridge Avenue, Melbourne, Florida 32901. Please dress in cheerful colors.

10 entries.
Aunt G, we can't believe one month has passed since you left us. But we take comfort knowing you are "Walking Around Heaven" with your beloved Uncle Sey. I can see you laughing with Aunt Millie and dancing and having good times with all your family and loved ones who went before you. We love and miss you dearly. You are forever in our hearts. Love always. Mich
So sad to read of Georgianna.s passing. I will miss taking her to church on Sundays as I did when Guy was alive. She was a very special lady and I was privileged to have met her. I am sorry I will not be in area as I am in Mass. for the summer.
"The bitterest tears shed over graves are for words left unsaid and deeds left undone."– Harriet Beecher Stowe Words cannot express how I'm feeling right now but I take comfort in the fact that Aunt G knew the Lord and is resting in His loving arms. You have touched so many in so many ways. Sleep on Aunt G, and by the grace of God we will meet again
Our sincere sympathy to the entire family. Georgiana will be terribly missed She was fun to be around just reminiscing We will surely miss her. May we all be comforted to know that we will see her again. Blessings on you all.
Love Aunt Georgia. Im going to miss you. You'll always be in my heart. 💜
Aunt G,loving and caring,faithful follower of Christ.May her soul rest in peace.She will be greatly missed.
Sweet sleep in heaven, Aunt G. Love and miss you.
Rest in peace my loving sister.
SIP MY DEAR AUNTY GEORGIE
Thank you lord for allowing us to have encountered Aunt G what a bond you have given us.we miss her as a family friend and we're hurting but we trust you lord as we pray for the family to continue her love for everyone