Grace Arlene Patnode Boyer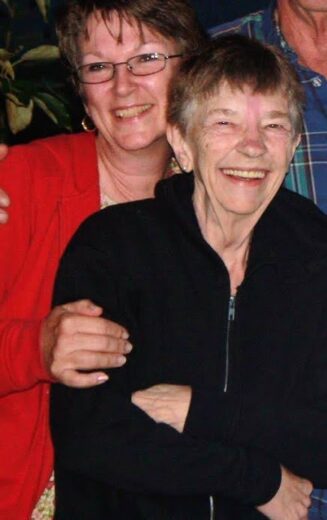 Born on July 19, 1938 in Saranac Lake, New York
Departed October 28, 2022 in Melbourne, Florida
Grace Arlene Patnode Boyer was known by many names, Mom, Grandma, Granny, G.G. and her crafting name Happy Hooker. She created lovely works of knitted and crocheted blankets, sweaters and baby clothes.
Grace was born to Elmer Joseph Patnode and Helen Winifred (Collins) Patnode on 19 July 1938 Saranac Lake, New York. She grew up with her brother Bobby; sisters Marion and Barbara. Grace was particularly close with her cousins whom she adored, Dick Sprague and his wife Bev, Billy Sprague and his wife Louise and Sue and her husband Ralph Steele.
On 12 October 1956 she married her husband Carl Joseph Boyer and remained united until his death 23 March 1998. They had four children Lawrence Elmer Boyer, Monique (Mickey) Anna Boyer Norsworthy, Carla Helen Boyer and Angela Lynn Boyer.
Grace's family moved permanently to Melbourne, Florida in 1973. She was blessed with 5 grandchildren Grace (Gracie) Young Boyer, Setton Lee Norsworthy, Evon Denise Norsworthy, Cassie Marie Norsworthy and Anna Sophie Norsworthy. Her blessings continued with 6 great grandchildren Caydon, Elijah, Gavin, Rowan, Adrianna and Jackson.
Grace traveled the world through her many books which she read daily. She also loved to knit, crochet, work on crosswords and sudoku. She and her daughter Monique (Mickey) created works through Sandridge Needleworks until Mickey's passing on 29 March 2022.
On 28 October 2022 we lost our Mother Grace, the rock of our world. She was our center piece of which can never be replaced. Her never-ending love for her family and friends could always be felt and though our hearts are broken she can now join her husband Carl and her daughter Mickey with our Eternal Father.
We love you Mom!
3 entries.
Gracie was an amazing friend we will definitely miss her love to your family Willene
So sorry for your loss prayers for you and yours .
I am so sorry for your loss. Your mom was a very special lady. We all loved her!