Heidi Anne Dauplaise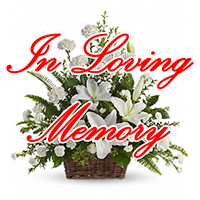 Born in East Northport, New York on June 11, 1958.
Departed in Melbourne, Florida on October 31, 2018
Heidi Anne Dauplaise, 60 of Palm Bay passed away on Wednesday, October 31, 2018. She was a native of East Northport, NY and moved to Florida in 1980.
She was the leader in her 2 year battle with Stage 4 Cancer. She has left this world knowing how strong and loved she was. As one of the most caring people this world has ever seen, her loving heart will forever be our guide.
She cherished her Children and Grandchildren with all her heart and loved to be called "Mom-Mom." She also had an intense love for animals. She enjoyed teaching Parakeets how to talk and sing. Her love for dogs carries on through Greta & Heidi, the two German Shepherds she shared with her loving companion.
She also enjoyed hobbies such as, ceramics and gardening. She would often enjoy sharing her creations with family and friends. We will cherish her talented work forever. She had a beautiful garden, in which she loved caring for and was so proud of her beautiful Sunflowers.
Heidi is survived by her Children, Traci Dauplaise and Christopher Dauplaise of Palm Bay. Her Mother, Dorothy Erbar, Brother, Edward Erbar & Sister, Kim Conley (Michael) of Melbourne. Her loving Grandchildren, Tyler, Stephen, Blake & Kylee of Palm Bay, Nieces Mackenzie Conley of St. Augustine & Emily Erbar of Lexington, KY. Her loving companion, Ronald Pheneuf of Palm Bay, several Aunts, Uncles & Cousins, as well as many other loving family members.
Although our lives are a little darker now without you, the shine from your heart will light our way. We miss you, rest with the angels, you fought hard as one of the strongest women we know.
Services are Monday, November 12th, 5 to 8 at Brownlie Maxwell Funeral Home.
4 entries.
To Tracis mom, I remember you worked at palm bay high in the kitchen. You were a nice lady. You encouraged me to do good. You were a fighter with what you believed as a woman. I guess you were right at palm bay high and told me to always protect Traci. I let her get bitter and lost the true connection I had with u and her father and her. But wont ever forget your attitude.. rip..
Heidi I'm surely going to miss you, our talks on messenger and Facebook. I'm so happy we stayed close and kept in contact. Even when you got so sick, you always was concerned about me. Your love was so great. You were so strong and you stayed happy through it all. I'm sorry I won't be able to make your celebration of life as I just got out of the hospital. To the family: Traci and Chris I keep you and all your family in my prayers. My heart goes out to you all. Dorothy I send my condolences and a big hug as well. You all have gone through so much. God be with you all and help you at this time.
Heidi you did it ! All you could do with such a deep love for your man your mom your children & Grands & your siblings your family before you left ! They all have memories you made with each of them. Yes cousin it will help fill the whole you have left in in each of their hearts. Each of them will miss you for different reasons & in different ways but they will always remember you & love you - so fly high Cousin smile down on us often you fought the good fight but now Rest In Peace Rest In Love ! 💜
Dear Kim, Mackenzie and family, I did not meet your sister/aunt, but I feel as though I know her from the posts you shared. My wish is when you think of her to remember all the happy times you shared. Love and strength to all, Ellen Crume