Helen Stutts Corley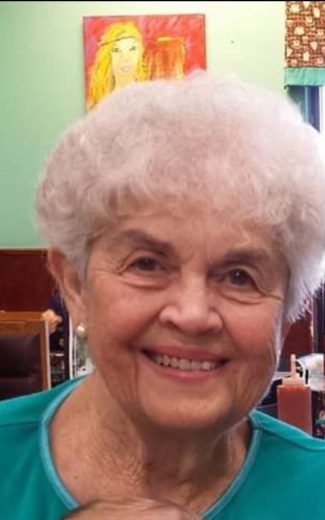 Born on October 31, 1935 in Union, South Carolina
Departed on May 30th, 2021, in Melbourne, Florida
Helen Stutts Corley "Mim" passed away peacefully at her daughter's home on Sunday, May 30, 2021 at the age of 85. She was surrounded by her loving family listening to the stories she had shared with us throughout her lifetime.
Helen is survived by her loving husband of 67 years, Bobby Corley; siblings, Jane Stutts Armstrong and Barry Stutts both of South Carolina; children Candy Koshinski (David), Kevin Corley (Patti), Russell Corley, and Kristi Sexton (Dave); Seven grandchildren: Corey, Cassie, Colt, Maegan, Ben, Tyler, and Kate; and four great-grandchildren: Maddie, Makayla, Cheyenne, and Emma. She is preceded in death by her parents; brothers, Herbert Stutts; Johnny Stutts; Roy Stutts, Lewis Stutts; Robert Stutts; sisters, Sarah Stutts Neel; Louise Stutts Berry; and Peggy Stutts Rutherford.
Helen was born on Halloween night 1935 in Union, SC to John McKinley Stutts and Janie Brandon Stutts. She was the 9th of eleven siblings- six boys and 5 girls who all claimed that she fell off the witches broom and landed on their doorstep on that spooky night. However, birth date had no factor in determining who Helen really was. She graduated from Newberry High School in 1954 where she excelled in basketball and cheerleading (where she cheered on her future husband!). She was also crowned a Newberry High School Beauty in three out of her four high school years.
On July 3rd, 1954 in Fountain Inn SC, she married her high school football star after his return from his time in the Air Force during the Korean war and together they started a life in Melbourne, FL where they would remain for the rest of her life. Helen soon began working as a Data Requirements Analyst at RCA in 1956 where she witnessed the birth of the space program all the way through the shuttle program before retiring from CSR in 2000. At that age she began her next and most memorable job to date; being a loving, devoted, and sometimes sass-throwing "Mim", which was a special name that most people loved her by.
Even before she retired, she was most known for being the life and soul of her family, which doesn't come close to describing her. Everywhere she went, people would gravitate to her and instantly fall in love with the warmth and compassion that radiated through every fiber of her being from family, friends, and people at the local restaurants. She had the ability to mend any broken heart with a hug, a carrot cake, and a sip of sweet tea.
Throughout her life, the thing she most enjoyed was sitting with her family and loved ones, sharing stories of days past with some good homemade food, which is exactly what she did up until the night before she passed. When she would take a break from being the life of the party, her laugh was known to radiate around the room, which would cause everyone else to join her. She was also known to turn a few heads with her infamous "camel walk" dance, which no one else has been able to master since.
Her time as a woman of faith, loving mother, grandmother, and great-grandmother will be the most cherished. She was a permanent fixture at baseball fields, dirt tracks, competitions, gun ranges, chorus concerts, football games, marching band shows, hockey rinks, recitals, graduations, birthday parties….the list goes on and on. Everyone who came in contact with her fell in love with her joyful soul. However, she also wasn't afraid to "tell it like it is", which usually meant that someone was going to get some very qualified advice.
Helen made sure to pass along valuable life lessons to those that live on: always be good, forgive, love with an open heart, share your stories, and know that a swig of sweet tea always makes things better.
Her service will be private for her family.
"Give thanks in all circumstances, for this is God's will for you in Christ Jesus."- 1Thessalonians 5:18
16 entries.
So sorry for the loss of Helen We will miss her. Love you
Ms. Helen, a lovely, kind spirit indeed. I met her through my good friend, Kristi. I remember her sweet voice that always welcomed me into her home. My prayers and condolences to Kristi and her entire family for your loss. May the Lord grant her soul eternal rest. Peace and blessings.
One of the sweetest, generous, loving women I am blessed to have known and she will be missed greatly. Love to all her family.💕
Helen was such a beautiful soul. She & Bob regularly welcomed us into their home and were always so patient with us as kids. I remember feeling genuine love every time we stopped in. Growing up in Sunwood Park has given me a lifetime of great memories and the Corley's were a big part of that. You are just a really special family. Thank You. Bob, Kristi and Family… I am so sorry for your loss. May your fond memories never fade.
Rest well, Dear Helen, you've certainly earned it! Enjoy re-connecting with friends & family who have passed before, I'm certain Mom & Dad will be in touch. I fondly remember the many conversations we shared while working together at RCA and before and since that time as family. Will be in touch again some day and know you'll be watching over all who have loved you here. 💕
I am saddened to learn of Helen's passing. I met her through a mutual friend and loved her instantly. She was a ray of sunshine and full of so many wonderful qualities all wrapped up in a spunky pretty little woman, just so much fun to be around. My heartfelt condolences go out to Bobby, her children and her extended family. Our loss is indeed Heaven's gain.
Mrs. Corley; one of the "Good Ones". Such a sweet lady. Loved Jesus and loved her family. She will be missed.
I will cherish all the times we had together with Helen and Bobby. She was quite a character. She was compassionate, feisty, sassy and funny. Great personality and sense of humor. May God be with her family through this difficult time.
Hello. I work with Kristi at Integrity Rehab Group and have observed, from a distance, how much Kristi's family means to her. I imagine the importance that family carries to Kristi is an indication of what a great person Helen was. Wishing Kristi and your family comfort during this difficult time. David Erber
Helen and Bob were close friends of my parents (Bill and Wynell Harris). They shared great times, especially going to Mathers Bridge to hear Bob play his guitar. Their daughter Candy Koshinski have been friends for 60+ years and Kristi Sexton was the flower girl in my wedding. Every bridal shower, baby shower, you name it, Helen was there. Her smile was contagious and her laugh infectious. I was proud to call her 'Mom'! My children considered her their honorary grandma and have many fond memories of her.. I pray for peace and comfort for the family and I know my Mom and Dad have welcomed her to Heaven with open arms! Till we meet again....💜💜💜
Beautiful tribute to a beautiful lady! She will be missed by us all!
So sorry Candy and family.
I hope that our Lord brings you and your family the much-needed peace during this sad time. Please accept my condolences, just know that I am here for you, please don't hesitate to reach out, especially during this difficult time. Hugs!
Helen was one of a kind! Such a beautiful woman inside and out! I love her and will miss her so much. We didn't get to see each other often but when we did it was just like old times. I'm sure she is doing her Camel Dance in heaven. I know you all know what a wonderful person she was. All my love to you all! Love Kay & John
I always loved Aunt Helen and Uncle Bobby and all my cousins. She will be greatly missed. Our love always. Family forever in our prayers. Love Frankie
We lost the very best of us all, but Heaven is a happier place now! She was the one we all turned to in times of sorrow and happiness. Just hearing her voice (unlike any other) could make everything better! I could go on, but all who knew her loved her. The Stutts circle has not closed yet, but am sure it is noisier now with all the talking, remembering, dancing, and even skating if there is a rink! She would want us to go on with our lives remembering all the good we had. Aunt Helen—-the best of the best will always live in our hearts! As one cousin said: Aunt Helen was a class act!