Henry Clay Wells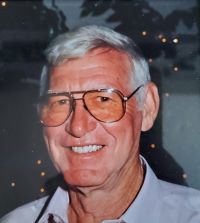 Born on May 14, 1934 in Beautancus, North Carolina
Departed on February 3, 2022 in Melbourne, Florida
Henry (Hank) C. Wells, born on May 14, 1934 (age 87,) passed from this life on February 3, 2022 in Melbourne, Florida.
Hank was born in Beautancus, North Carolina. At age 17, he entered the United States Air Force in which he served 20 years. His decorations include The National Defense Service Medal, United Nations Service Medal, Korean Service Medal, and The Good Conduct Medal. His first base was Patrick Air Force Base in Florida. He loved the area so much he made it his home upon retirement.
Hank was a great lover of traditional country music as well as bluegrass. Throughout his life, he played several instruments in multiple bands. Hank loved fishing on any given day and could be found on his lake reeling in a bass.
Preceded in death by his parents, wife Debra (Anastasio) Wells, three siblings, and one grandchild. Survived by three daughters, Connie (Dean) Bailiff, Shelby (Tracy) Turner, Shannon Gallant. Three sons, Cody (Brenda) Wells, Tom Flow, Eric Murray. Ten grandchildren and three great-grandchildren. One sister, Ann Wilson.
3 entries.
I cant express the love and kindness you showed me over the years. What you did for me and my girls (Taylor and Emily ) I will never forget. Thank you rest easy Hank and give meme a hug and kiss from us.
To the family ,I'm sending love and prayers to. You all! Loved Hank and Debbie so much my your dad Rip and give God all the glory ! Pray you find comfort in knowing how much her was loved ! My friend forever love you all!
I'm going to miss you but I have a lot of very fond memories of the time we got to share. God bless and I love you. Michael