Hope Elsie Stewart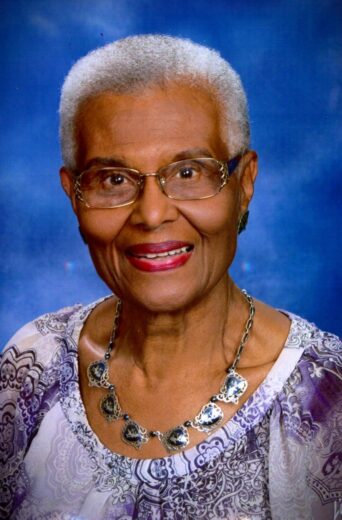 Born on November 28, 1933 in Kingston, Jamaica
Departed October 28, 2023 in Melbourne, Florida
Hope Elsie Stewart of Melbourne passed away peacefully at 7:12 p.m. on Saturday, October 28, 2023, surrounded by family and friends. She was born Hope McLaren on November 28, 1933, in Kingston, Jamaica to Uriah and Eulalee McLaren. Raised in St. Thomas Parish, she attended Wolmer's High School for Girls, which is the second oldest high school in the Caribbean. She immigrated to New York City to attend school at New York University where she earned bachelor's and master's degrees in Chemistry.
After graduating from NYU, Hope was employed at highly respected companies including Merck Sharp & Dohme Pharmaceutical, Johnson & Johnson, and Booz Allen.
In addition to being a productive career professional, Hope was a devoted wife and mother. She met Edgar A. Stewart in New York City. They were married on her birthday in 1964 and remained happily married until his death in 2008. Hope and Edgar started their family in New York City, but eventually settled in New Jersey to raise their sons, Edgar Jr. and Colin.
After many vacations to Brevard County, Hope and Edgar retired to the area in 1998—moving first to Palm Bay and then to Malabar. When Edgar took sick, Hope became an extremely devoted and diligent caregiver. While balancing self-care, spiritual, and social activities, she worked tirelessly to ensure the best care for him at home and in his nursing home facility until his death in December 2008.
Hope kept engaged with the social and cultural life in and around Malabar. She volunteered with the Democratic Women's Club of Palm Bay as well as the Brevard Caribbean American Sports & Cultural Association. She regularly took season tickets at the Melbourne Civic Theatre and was a recognizable presence at their holiday show.
In 2017, she moved to The Fountains, a senior community in Melbourne, and became an active member of the population: she took up art; learned bridge, cribbage and mahjong; and continued her passion for Scrabble—leveraging a broad knowledge of two- and three-letter words to engage in fierce competition.
The family would like to thank Hope's home health aides Lindell, Heralda, and Sonia and her VITAS Healthcare Hospice team for their compassionate care and support. Thanks are also extended to the members of Unity of Melbourne Ministries for their love, spiritual guidance, and support.
Hope had two grandchildren, Olivia and Roman, and she enjoyed visiting and spending time with them every chance she got. Also in her retirement years, she enjoyed traveling to New York, Canada, Trinidad, and her beloved Jamaica to create cherished memories with family and friends.
In addition to her husband, Hope was preceded in death by her sister Mavis Hume, her brothers Lyndon, Austen, Halcott, and Neil, and her parents Uriah and Eulalee McLaren.
Hope is survived by her children Dr. Edgar Stewart Jr., and Colin Stewart, her daughter-in-law Helen Veske, her grandchildren Olivia and Roman, her sisters-in-law Leonie McLaren and Agnes Grant, several nieces and nephews, and many longtime family friends in the Northeast as well as new friends in Brevard County.
There will be a private family memorial service on December 2, 2023. Those wishing to view the memorial service can do so here: Hope Stewart Memorial Service 12/2/2023 (https://us02web.zoom.us/j/89936086296?pwd=NVdzV2ROd3JhRGlveHFxZDVaT25vUT09).
There will be a Celebration of Life service at Unity of Melbourne-Sanctuary, 2190 Sarno Road, Melbourne, FL 32935 on December 3, 2023 at 2:00 p.m. For those unable to attend the Celebration of Life will be streamed here: https://www.youtube.com/@unityofmelbournefl.
In lieu of flowers, donations can be made "in memory of Hope Stewart" to Wolmer's via the "Donate – Other" page at the Wolmer's Alumni Association, South Florida Chapter (wolmersouthfla.org) or to the Melbourne Civic Theatre at mymct.org or 321-723-6935.
14 entries.
Uncle Barry & Aunt Avis from New Bern, wrote on December 1, 2023
Dear Edgar and Collin, Uncle Barry and I cannot attend the services. However, our hearts and prayers will be with you. Hope was a dear friend. She was kind, strong and always focused on the brighter side of life. I spoke with Hope a few days before her death and we laughed about some of the good times we had. Rest in peace dear friend. God be with you till we meet again.
I was blessed to know both Hope and Edgar for much of my adult life. I remember years of gatherings, good food, great times, and laughter over our years of friendship. In recent years, Hope and I continued to see each other whenever we could, and I cherish the memory of her visits to see me in Maryland. Until the very end, our conversations made me smile, sharing so much history as we did. I will miss Hope, and I'm eternally grateful for all of the memories we shared. Sending my blessings to Edgar and Colin, and wishing you peace and love now and always, knowing your mom will never be forgotten.
Ours was a friendship of over 70 wonderful years. May your soul rest in peace until we meet.
Hope and Edgar Stewart were across the street neighbors in the 1980's. Our families lived at the end of a short cul-de-sac in Piscataway, New Jersey named Jeffrey Way, (AKA "Sesame Street"). My family lived there for eleven years, and during that time we developed a special friendship with the Stewarts. Those were magical years when our children were young and able to frolic and to play with their neighbors from morning until evening in the relative safety of our small cul-de-sac. It was a time of holiday parties, birthday celebrations, and summertime cookouts. Hope and her husband Edgar would entertain on special occasions, extending their warm hospitality to everyone, including the neighborhood children. These special soirees provided many wonderful memories that my children still mention today, some forty years later! Thank you Hope for the good times. May God rest your sweet soul, and may God be with you till we meet again.
Edgar and Colin you have our deepest condolences. Ms Hope was a very kind and thoughtful woman. We met through the late Daphne, Pansy and Lanny. My fond memories of your dear Mother is her love for playing board games. We enjoyed playing Scrabble and Rummikub. She will be missed dearly. Our thoughts and prayers will be with you and the entire family now and always. May her Soul Rest in Eternal Peace.🙏🏾
Hope Stewart, what a remarkable woman and trail blazer at a time when few black women participated in the scientific world at a high level. I had know Hope's husband, Edgar Sr., from 1958 and participated in their union in 1964. We've always been family, our children growing up together and I being known as Uncle Eric. In fact, Hope fondly called me Uncle Eric as the boys Edgar Jr. and Colin did. Our families remained in contact throughout the years. In recent years, I saw Hope each year as she visited Edgar and his family who live in Maryland. I live in Washington DC, and they were able to visit me at my residence or Hope and I would catch up over lunch. In late 2022, Hope informed me that she was diagnosed with blood dyscrasia and no longer responded to treatment. At that point, she was entering hospice care. Thereafter, we continued to correspond by phone and text until October 25 when she informed me that her condition was deteriorating. Edgar called me a few days later to inform me that Hope has passed. Hope remains an indelible memory in the surviving members of our group of families in which we thrived throughout the years. Godspeed, my dear sister.
I have worked with Hope for many years with the Democratic Women's Club. Both she and I have held many positions with that organization. I consider Hope a great friend and a hard worker in the "good fight" that must be done to maintain and strengthen our democracy. She will be missed. Our entire Organization will miss her.
We were next-door neighbors with the Stewart family from 1971 to 1973 in New Jersey and our children were approximately the same age and could play together. They were wonderful neighbors and we have never forgotten them despite the many years that have passed. I had the opportunity to reunite with Hope a few years ago and learned about all the successes of her family. I am happy that she had such a long and productive life. My condolences to Edgar Jr. and Colin.
Aunt Hope was my friend and a surrogate mother to me after my own parents Fay Bailey & Fitz Allen John passed away. She waa disciplined, conscientious, reliable, independent in spirit and thought, kind, a deep thinker and emotionally very strong. Women like her have the capacity to run governments and whole societies if they live in systems in which their talent and wisdom is recognized. But alas, we live in the world and a western world at that. God's speedy auntie. Rest!
I know Mrs Hope Stewart for a little while and what I . Know She was a very nice lady R I P Mrs Stewart
Living proof of her greatness is the family she left behind. As our ancestor transcends into the kingdom, I pray that those that she left behind find peace in the season.
I met Mrs. Hope while attending BSF International where she faithfully attended the Bible Studies and also through the DWC of South Brevard where she was an active member. She was an interesting, kind, sweetly soft-spoken lady. I feel blessed to have known Mrs. Hope. We will miss her.
To Collin and Edgar, Fred and I cannot be in Melbourne on December 3rd. However, our hearts will be there. It was such an honor having Hope as our dear friend. She can never feel lost to us because all we have to do is remember the times we shared with her and the deep meaning she gave to the word friendship. May you all feel comforted as your celebrate the her life