Jake Ryan Louizos
Jake Ryan Louizos, 28 passed away unexpectedly Tuesday August 18. Jake was born and raised in Melbourne holding various jobs in the area as a chef and lastly as a masonry worker. Jake had a signature smile and laugh with a love for life, boating, fishing, cooking, and spending time with his family at home and at work. He was especially proud of and devoted to his two children, whom he loved and adored and brought him so much joy.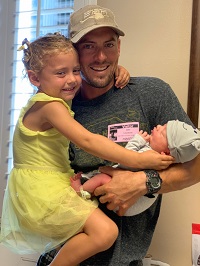 He will be dearly missed and forever remembered and loved by his family and friends. Survivors include his daughter Sydney Louizos (Lindsay Chiarantona) , son Weston Louizos (Kirstin Morris significant other), father Richard (Ellen) Louizos, mother Diane Gunderson, brother and best friend Eric Louizos, paternal grandmother Diane (Alan) McCombs. Step-siblings Joel, Michelle, Kylie, Glenn-Marie and Carlie and many aunts, uncles and cousins. He was preceded by his step-father Curtis Gunderson and maternal grandparents Jean and Alice Jacques.
A celebration of his life will be planned in the coming weeks. Donations may be made to a water or fishing conservation program of the donor's choice.
24 entries.
We are so sorry to hear about the sudden passing of Jake!! There are no words that we can say that will ease your pain! We can only pray that God will comfort you all during this most difficult time! Please know, you will all be in our thoughts and prayers! The Greco Family.
Sydney and I love you forever. 🙏🏼 ❤️ She's so proud to have you as her daddy. Rest easy.