James Antonio Racca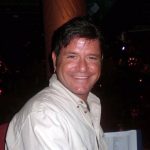 Born in Newark, New Jersey on January 6, 1971.
Departed on February 17, 2018 in Palm Bay, Florida
James Antonio Racca, 47, of Palm Bay, passed away peacefully with his family and friends by his side on Saturday, February 17, 2018.
Jim was born on January 6, 1971 in Newark, New Jersey to Raymond and Annette Racca Sr. Three years later the family moved to Melbourne Florida, where Jim discovered his love for the beach and the water. Jim loved to surf, water ski, and jet ski . He attended Ascension Catholic Church from Kindergarten through the eighth grade, followed by Johnson Junior High and graduated in 1989 from Eau Gallie High school, where he met his loving wife Diana Swiontek Racca.
Jim had a love of music and singing, and a beautiful singing voice. He was the lead singer of the band Low Profile/Signal 22 in the late 80's early 90's, before becoming a karaoke host at Kokomo's after winning a singing competition. In 2013 he fulfilled his dream of visiting Graceland, home of his idol Elvis Presley.
In 1995 Jim began his career as a Correctional Officer at Martin Correction Institution where he later retired in 2017.
Jim married his high school sweetheart Diana Swiontek in 1998 at Ascension Catholic church, followed by a honeymoon cruise in Mexico. They would later take a cruise or vacation every year for their anniversary. They enjoyed singing, cooking and snorkeling together. He was her best friend and she was the love of his life.
Jim enjoyed cruising, eating sushi, watching movies, driving his Ford Mustang and spending quality time with his 2 dogs Bella and Presley. Jim was a very good cook and learned everything he knew from his adoring mother Annette, who had passed in 2015. Her death took a big toll on Jim's heart, as he was very close to her. He enjoyed spending holidays with his wife Diana and her family, becoming very close to her mother.
The support from his many friends and family while in the hospital was wonderfully overwhelming and appreciated.
Jim will be forever in our hearts. His sweet and charismatic personality will be greatly missed by all.
Jim was preceded in death by his mother Annette Racca. He is survived by his loving wife of 19 years Diana Racca of Palm Bay, brother Raymond Racca Jr. (Angela) of Texas, niece Cheyenne Racca of Cocoa, his Aunt Grace Racca of Pennsylvania , father Raymond Racca Sr. of Melbourne, in- laws Stanley and Camille Swiontek of Melbourne, and sister in law Michelle Fincannon of Melbourne.
In lieu of flowers, his wife requests plants.