James B. Carroll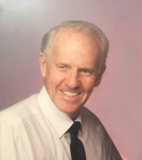 Born in Syracuse, New York on December 12, 1931
Departed in Indialantic, Florida, on March 27, 2019
In Loving Memory – James B. Carroll, 87
James Carroll of Indialantic, Florida passed away surrounded by members of his family on Wednesday, morning, March 27, 2019, in his home where he had lived for more than fifty years. Rainbows leapt into the sky, the winds howled, and hailstones the size of tangerines fell immediately thereafter.
Born December 12, 1931 in Utica, New York, he was the son of the late James and Mary Kelleher Carroll. He is survived by Anita, his beloved wife of 63 years, his eight children and their spouses: Maria (Kim) Anthony, James (Laurie) Carroll, Joseph (Joyce) Carroll, Kelli McLure, Christopher Carroll, Thomas (Olga) Carroll, Michael (Tina) Carroll, and Matthew (Meredith) Carroll; Forty one grandchildren: Jessica, Luke, Ben, Elizabeth, Isaac, James, Taylor, Shannon, Tighe, Mary Grace, John, Bethany, Anna, Emily, Joseph, Rachel, Michelle, Matthew, Anita, Abigail, Nathan, Olivia, Naomi, Tirzah, Chris, Shane, Shiloh, Gabriel, Katrina, Thomas, Sophia, Lydia, Mark, Dominic, Sebastian, Cana, Michael, Caleb, Max, Jack, and Charlie; Thirty one great grandchildren: Victoria, Johnathan, David, Landon, Nathan, Liam, Samuel, Samiah, Aiyden, Lily, Shelby, Wolfgang, Piper, Foster, Kirra, Kolby, Cian, Mickey, Heidi, Johnny, Ruby, Brody, Shane, Gianna, Nina, Alayna, Chip, Fia, Finn, Goldie, and Valerius, with more babies on the way.
Jim grew up and met his future wife in Little Falls, New York. After he was drafted into the US Army, he became one of the original missile pioneers and worked in the space industry for over 40 years. He was on the Redstone and Jupiter-C launch team and was in the small blockhouse for Explorer I, and worked at NASA from the beginning of the Mercury Program through the Space Shuttle Program. Throughout his life, his Catholic faith came first, a faith he and his wife shared generously within their family and beyond, serving with local community groups to feed the hungry, clothe the poor, shelter the homeless, visit the sick, defend the unborn, and honor the dead.
He was a fun father, a great baseball coach, an even better basketball coach, a father figure for his children's friends, a lifelong romantic, an excellent story teller, a hardy camper, a steady travel companion, a dry wit, a faithful disciple, a friend to the friendless, a renowned wise man, and a loving grandfather.
There will be a viewing this Friday, March 27, 2019 from 5 pm to 7 pm at the Brownlie Maxwell funeral home, 1010 Palmetto Avenue, Melbourne 32901. There will be a funeral service this Saturday, March 30, 2019 at 1 p.m. at the Immaculate Conception Catholic Church, 3780 S Hwy A1A, Melbourne Beach, FL 32951. The burial to follow is at the old Saint Joseph's Catholic Church Cemetery, 1422 Northeast Miller Street, Palm Bay Florida, 32905.
In lieu of flowers, memorials may be made to Genesis House at https://www.genesishousefl.org/
He will be deeply missed by his family, friends and all who knew him.

11 entries.
Mike, so sorry to hear about your dad. He was a very big part of my childhood, and thus a big part of who I am today. I regret not telling him thanks for that. I realize now with more perspective how special some people are, and your dad definitely falls into that category for me. I don't know if you're still living in Peachtree City, but I'm still in Atlanta and would be great to catch up with you. I'll also be in Melbourne over Easter if you might be as well. Text me back to lmk you got this and to lmk when we might be able to catch up on a call and possibly also in person. Myself, my brother John, and our whole family, sends are most sincere condolences to you, all your brothers and sisters, and especially your mom. -Dan Foley
Mr. James Carroll is an amazing man for sure! God Speed & God Bless you my friend! Richard & Donna Griffin
Dear Kelli, Matt, Anita, Abbey, Nathan, and Mom Carroll, We are profoundly sorry for your loss and pray for God's peace, grace, and love to surround you and the rest of your family. We love you. Larry & Susan
To Jim Carroll's extended family: I worked with Jim for almost 4 years in TE-LPS-13. He was an enduring figure to me far beyond the 4 years we worked together. His wit, wisdom and healthy cynicism helped me learn and grow in a way that would not have been as achievable if I had not had the privilege of his mentoring. I missed him from the day he retired and have thought of him many, many days since. May God bless your all as you remember the man and may his spirit grace your lives as you go forward.
A wonderful family and what a great life. Your legacy will live on forever.
"I think I saw you're going to be on the Mcleash Lehman Report!" Then he'd have me watch the news on PBS for an hour, and behold, there would be a story about the Melbourne pro-life activists. Yes, Jim was fun.
James Carroll... a fruitful vine.
He was such a great man who will be greatly missed on this earth, though we know he is rejoicing now with Jesus. My heart is full of feelings and sweet memories that can't be put into words.
Our thoughts and prayers are with all of you. Sending love and appreciation for a life so well lived. Love, Len and Erika Lopez
We are deeply grieved for all of you. We know that James left a wonderful family behind who honor and love each other. What a fabulous life! God bless all of you
Our sympathies, prayers & love to the Carroll family for their loss. We'd see Jim & Anita at mass at Immaculate Conception each Sunday & usually gave/received hugs & smiles from them. May he rest in peace.