James David Cole, Sr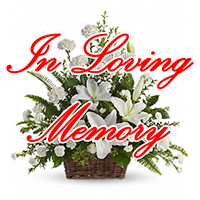 Born in Austel, Georgia on November 1, 1944.
Departed in Lakeland, Florida on November 14 2018
James David Cole, Sr., 74, was born in Austel, GA, and passed away on Wednesday, November 14, 2018, in Lakeland, FL. He was a former manager in the test department at Harris Semiconductor.
James is survived by his children, David and Julie Cole, Jr., Tracie and Stuart Crawford; grandchildren, Jourdain, Makenzie, Kaleb, Kendall and Cole.
He was predeceased by his wife, Inez.
Visitation will be held on Monday, November 19, from 1 until 2 pm with a service at 2 pm at Brownlie-Maxwell Chapel. brownliemaxwell.com