James T. Burley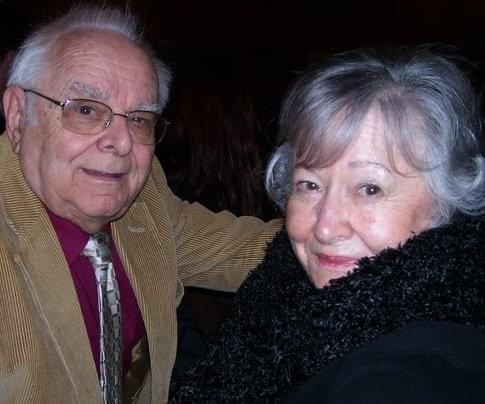 Born on April 21, 1929, in Tatamy, Pennsylvania
Departed January 19, 2023 in Palm Bay, Florida
James T. Burley passed away peacefully on January 19, 2023, at 93 years old. Jim was born on April 21, 1929 in Tatamy, Pennsylvania to Paul and Ida Burley. From an early age, Jim was a talented pianist, who loved to share his gift of music. He studied at the prestigious Oberlin Conservatory of Music for his undergraduate and University of Colorado for his graduate studies.
In 1957 in Nazareth, Pennsylvania, he was introduced to Anna Maria Andretti, a cute little Italian girl who had emigrated with her family just a couple years earlier. She loved to listen to him on the radio as DJ Marty Miles and since she was just learning English, they communicated through laughter and a shared love of the arts. They married and together they raised their four children in Pompton Lakes, New Jersey, where Jim taught music at the local schools and played piano in various venues.
After moving to Florida, Jim worked as a Music Director at Holy Name of Jesus Catholic Church, and for over forty years at St. Sebastian's by the Sea Episcopal Church in Melbourne Beach, where he played his last service this past Christmas Eve. For many years, Jim also played piano at The Mango Tree Restaurant, where he entertained dignitaries, celebrities and astronauts. Jim was also an accomplished composer, who wrote innumerable pieces of liturgical music, most notably an Easter cantata entitled "Via Cruces," which was performed by a joint chorus from several area churches. But most of all, Jim will be remembered for his quick wit and humor, his kind heart, his exceptional voice and his youthful exuberance. He was truly loved by all who knew him.
Jim is predeceased by his beloved wife Anna Maria; daughter Janine; granddaughter Jamie; parents Ida and Paul; brother Donald; and sister Nancy. He is survived by his sons JT (Mary) and David (Jane); daughter Gwen (Jason); grandchildren Tonya, Joanna, Genna, Brianna, Andrew, Evelyn and Winston; five great-grandchildren; brother-in-law Mario and sisters-in-law Susie and Corky; as well as nieces, nephews and friends.
"The meaning of life is to find your gift. The purpose of life is to give it away." Pablo Picasso
9 entries.
To my cousins, JT, David, Gwen, and families. I am so sorry for the passing of your dear father, my Uncle Jim. He ran the race set before him and now he is reunited with those loved ones that have gone before him. Because of what Jesus did for us, we are assured of seeing all of them again. I know that he had faith in Jesus and looked forward to seeing Aunt Annie again. My mother communicated with him often and was blessed by their relationship. He was always a bright spot in my Mother's Day when they talked on the phone. Did you know that he was responsible for introducing my mom to my dad? Mom and Uncle Jim were classmates in high school. We were so blessed to have him at my father, Donald's memorial in the fall of 2021. He sat at the piano and blessed us all by his beautiful music. He was an amazing man. He was always joyful and carried the Burley humor that Aunt Nancy and my dad had. I was their flower girl when they got married. He couldn't have picked a more beautiful woman, both inside and out. I recall that I called her a fairy Princess when I saw her in her wedding gown. I adored both of them. I have many fond memories of all of you in our early years. I'm sorry that we won't be able to get to Florida for his memorial but perhaps we will see you in the early part of summer in Pennsylvania. That would be nice, a long overdue family reunion. May God bless you with wonderful memories of both uncle Jim and Aunt Annie and an anticipation of seeing them once again on the other side.
He was my Grandpa, but the most amazing and wonderful man I've ever known, and more like a father to me, especially as I grew older. We shared secrets with each other, and I always felt as though I could be completely open and honest with him. I've lost already my mother, sister, and Nonna, but the pain of losing him is somehow deeper, more sharp. I take comfort in knowing that he lived his best, fullest life, and that in the end, I think he went exactly as he would've preferred to go. Independent to the end, even still driving around running errands. I miss you Grandpa. I love you so much.
Jane, I really enjoyed knowing you these last several years. Having joined the Joint STARS program in 2017 and working with you shortly after you were always my favorite software programmer to work with(shhhh don't tell the others). You were passionate, fun, wickedly smart and sharp. You were always willing to help do our food competition judging, Judge Jane as I liked to call you, and even though you never picked me to win I was very grateful for your participation. My thoughts and prayers are with you and the family.
The times we spent with you at our yearly gatherings were so enjoyable. Your laughter and presence will be missed. Rest in Peace Jane.
I will so miss his smile and his music
Jim was a very "gifted" musician and loved the Lord. It was my great pleasure to listen to him play and sing occasionally as I worshipped at St. Sebastian's Church these past six (6) years. We were so blessed to have him all these years at St. Sebastian's. He is now playing his music in Heaven with his beloved wife by his side. All Glory to God. 🙏
I will truly miss the quick wit and musical genius that was my former piano teacher. He and my mother collaborated musically on a regular basis over the years, with the results being a gift to the ears. Rest easy, Mr. Burley. May God grant peace to you and your family.
James and his beloved wife, family and friends reunited again. A magical man, kind to all, talented beyond belief and loved by all who had the pleasure to know him. A huge loss for so many. The world has lost another great man.
Gwen & Jason: I'm so sorry you all having to go through this difficult situation. I pray you all can revel in the many memories of your Dad. Happy your children are old enough to remember their granddad!! 🙏🙏