Janet Claire Platanitis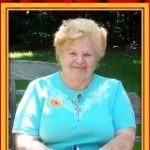 Born on November 24, 1935 in Holyoke, Massachusetts
Departed in West Melbourne, Florida on December 17, 2019
Janet Claire Platanitis, at the age of 84, passed away peacefully December 17, 2019.
Janet was born in Holyoke, Massachusetts on November 24, 1935. She was the daughter of Irene Sheehan and Gerald Daviau, who have preceded Janet in death.
Janet was the beloved Mother of 6 children, Debra Houle (deceased), Marlene Gemme of Palm Bay, Fl, Sandra Dupont of Port St. Lucie, Fl., Robert Dupont of Richmond, Va., Cynthia Dupont of Palm Bay, Fl. And Gene Francis of Palm Bay, Fl. Grandmother to 16 children, Great Grandmother to 20 children and finally 1 great-great grandchild.
Janet spent 35 years in the nursing field. First, working as an LPN until finishing her RN degree in Fort Pierce, Fl. She was a member of St. Nicholas Greek Church in Fort Pierce.
Donations can be made to the Alzheimers Association.
Services are Saturday, January 4, 2020 at 10:00 am in the Brownlie Maxwell Funeral Chapel. Internment will follow at St. Joe's, Miller St Cemetery in Palm Bay, Fl.
5 entries.
It has been my pleasure caring for Claire for the past 2 years, she stole my heart when I started at Opis and I kind of adopted her as my grandma. She was a very sweet lady and I miss her so much! Miss seeing her smile everyday! I will always keep her in my heart. My thoughts and prayers are with all of her family, May you all have the Lord's peace and comfort in this time of sorrow!
My thoughts and prayers are with the family. She was a wonderful woman.
Grandma Claire you will be missed dearly. I have fond memories of Christmas holidays and family vacations spent with you and my extended family. May you find peace and sunshine on heaven's beach. xoxo Love you!
She was the best Grandma and Great Grandma a person could ever wish to have and more! She will never leave our hearts.
WE WILL MISS YOU. RIP SWEET ANGEL.