Janet Elinor Todd Campbell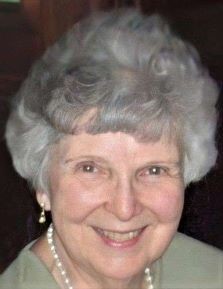 Born on December 3, 1933 in Newport News, Virginia
Departed June 4, 2022 in West Melbourne, Florida
Janet Elinor Todd Campbell went to be with the Lord on Saturday, June 4, 2022, in West Melbourne, Florida. She was born on December 3, 1933 in Newport News and was the oldest of three children. Janet grew up in Hampton, Virginia and lived there most of her life, as well as in North Carolina, Maryland, and Florida. She married William F. Campbell in 1952 after graduating from Hampton High School and over the next 24 years they were married she had four sons: Steve, Kevin, Tom, and Dan. Janet returned to the Hampton area in 1976 from Florida and worked as an executive secretary at the Newport News Shipyard, and later as a church secretary at Memorial Baptist Church. She moved to St. Petersburg, Florida in 2016, where she lived until late 2021 before moving to West Melbourne, Florida.
Janet was well known for her kindness and willingness to help others. She had a grateful heart and loved to tell stories about her family and growing up in Hampton. Janet was quite independent and lived by herself until the final months of her life. She will be sorely missed by all who knew and loved her.
Janet was a person of strong Christian faith and conviction, and always had a local church home, including Ivy Memorial Baptist Church and Memorial Baptist Church. She loved being with members of her church family and especially enjoyed Sunday services, Bible study, and singing soprano in the church choir.
Janet was preceded in death by her parents, Zachary T. Todd and Mamie L. Todd, her sister, Kay T. Edwards, and her former fiancé and long-time close friend, Jarvis Ennis. She is survived by her brother, Ronnie Todd, of Hampton, and her four sons: Steve Campbell (Ginger) of Satellite Beach, Florida; Kevin Campbell (Annette) of Germantown, Tennessee; Tom Campbell (Jack Graham) of St. Petersburg, Florida; and Dan Campbell (Sally Nguyen) of Arlington, Virginia; grandchildren Jason Campbell (Monica Turner), Chris Campbell (Rebecca Radic), Brian Campbell (Cody DeCarlo), Scott Campbell (Emily), Katie Campbell Yates (Garrett), Ian Campbell (Vivienne), Emma Campbell, and Dina Nguyen; several great-grandchildren and numerous nieces, nephews, great-nieces and great-nephews.
A service will be held at Memorial Baptist Church in Hampton, Virginia on July 23, 2022, at 1:00 PM, followed by burial at Peninsula Memorial Park in Newport News, Virginia at 3:00 PM.
Memorial gifts may be made in Janet's name to Memorial Baptist Church at 317 Lee Street, Hampton, VA 23669.