Janice Elaine Velie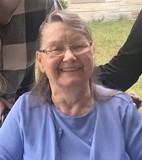 Born in Mondovi, Wisconsin on August 11, 1942
Departed in West Melbourne, Florida on February 2, 2019
Janice Elaine Velie, 76, died February 2, 2019, at home in W. Melbourne. FL.
Janice was born on August 11, 1942 in Mondovi, Wisconsin to Raymond & Vivian Larson. She was married to Benjamin P. Velie on July 15, 1960 in Eau Claire, Wisconsin. They moved to W. Melbourne in 1961 where they've resided for the last 57 years. After moving to W. Melbourne, Janice volunteered at Meadowlane Elementary School library as a Media Assistant and later retired from the Brevard County School System after 22 years of employment.
Janice was an active member of the Pentecostal Lighthouse church where her husband, Ben has pastored for the last 40 years. Her interests included baking, sewing, reading and playing board games with family. She especially loved to play Scrabble.
She is survived by her husband of 58 years, Benjamin P. Velie, daughter JoAnn Gibson (Chuck) of W. Melbourne, sons Eddie Velie (Nancy) of Melbourne and Clinton Velie (Marcie) of Westminster, SC; sister Edie Miles of Eau Claire, Wisconsin; 9 grandchildren and 10 great grandchildren.
A memorial service will be held at the Pentecostal Lighthouse church in W. Melbourne on Feb. 9, 2019 at 12:00 PM.
17 entries.
My heart goes out to Sister Jan's family. I'll always remember her as a loving and caring women. My love and prayers are with all of you.
Love and prayers to all the family. Janice was a huge and wonderful influence in my teen years. I will never forget all the time spent with her and all of you. She was a beautiful soul.
Janice was an amazing woman, Full of wisdom grace !A true Christian. Thank you Aunt Janice for loving us and encouraging ou in Lord! You will never be forgotten!
JoAnn I don't know if you remember me but I am your Mom's "sister" from Wisconsin. You visited with your mom several years ago. Your Mom lived with our family her senior year of high school and always stayed in touch with my parents and called them Mom and Dad. She was a special lady and had stayed in touch with me since my parents passing. Your family is in my thoughts and prayers. Hugs to your all.
I am so sorry for your loss. Our prayers are with you and your family
My condolences to you and your family my friend I know I haven't heard or seen you in years.
My deepest condolences, thoughts and prayers to the family. Janice was a huge and wonderful influence in my teen years. Such a very special person.
Our prayers and thoughts are always with you.
We now know you are running on the streets of gold with our Lord and savior Jesus. You will be desperately missed by all of us but rejoiced at where you now reside We love you. we love you too Uncle Ben
Brother Ben and Family: My condolence of sympathy to you and your family. I know we will all miss Sister Janice but we will see her again in the portals of Glory. She was a very special lady and Saint and I was blessed to have known her most of my life. God bless you all abundantly is my prayer.
So sorry for the children and Uncle Ben. She will be missed by many people.
RIP Aunt Janice..will miss you. You fought a terrible battle with your decease. You were a brave and strong woman. Your wonderful beautiful personality will be missed by all. Love you
God bless the family. Thoughts and prayers in abundance.
Jan and I worked together at the Media Center at Meadowlane Elementary. I met her in 1982. She and I became good friends, and had a friendship that lasted. I loved her and miss her. Love, Marion
I will always remember sister Janice in my heart. She was a kind person. Always smiling and positive. Forever in my heart.
A great Woman of God. Also a great organist at the church and very talented. She will be missed by all her church folk and family.
I just wanted to take a moment and express my deepest sympathy on your family's loss. I know you will all miss her. She fought a valiant fight. My prayers are with you for comfort during this time. Love to all!