Janice Oliphant Glenn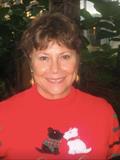 Born in Greenville, South Carolina on November 15, 1946.
Departed in Melbourne, Florida on June 13, 2018
It is with great sadness that we announce Janice Oliphant Glenn, 71, passed away June 13, 2018.
Janice was born to Olin Bryan Oliphant and Louisa Ann Montgomery in Greenville, SC on November 15, 1945. The family moved to FL when Janice was a young child. She grew up in the family home built by her father and uncle in Indialantic. Janice had many fond memories of childhood. Growing up with her best friend Julie Stewart, spending summers at the Bahama Beach Club, her kitten Tommy Whiskers and spending time with her Mammy and Papa are a few. She also loved riding her horse, Dynamite. As an adult, Janice was skilled in many areas. She was a master bridge player, enjoyed collecting antiques, took an interest in gardening and loved animals. Jan had a wonderful gift of hospitality, loved entertaining and cooking for others. She was unparalleled in her ability to love her family and care for others. She most enjoyed time with her family and grandkids. We will miss her terribly.
Janice is survived by her beloved companion, David Cruickshank of Palm Bay, Fl; sister, Patsy Oliphant of Indialantic, Fl; daughter, Meredith, son in-law, David and grandchildren: David, Elizabeth & Bowden Chamberlain of Ladera Ranch, CA; and daughter, Avery Glenn of Roswell, GA. Calling hours are at Maxwell Brownlie Funeral Home in Melbourne on Tuesday, June 19, 2018 from 5:00-7:00 pm. Her family welcomes flower donations: 1010 East Palmetto Ave., Melbourne, Fl 32901. A memorial service will be held on Wednesday, June 20, 2018 at 11:00 am at Eastminster Presbyterian Church with a reception to follow: 106 North Riverside Dr. Indialantic, Fl 32903.
She will be laid to rest at the Eastminster Presbyterial Church Memorial Garden.