Jari Mahaffey Sharpe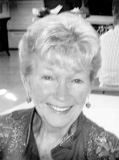 Born in Richmond, Kentucky on January 22, 1940
Departed in Rockledge, Florida on January 18, 2019
Jari Mahaffey Sharpe, of Satellite Beach, passed away Saturday January 18, 2019.
Jari was born in Richmond, Kentucky, lived her childhood between Kentucky and Ohio, and moved to Brevard County in 1956. She held a number of jobs here before hiring on at RCA Service Company at Patrick AFB. She and her husband Bud opened Brevard Camera Clinic in Satellite Beach in 1978, which they operated until October 1986. She enjoyed scuba diving, photography and camera repair, RVing, sewing, working jigsaw puzzles, hand-and-foot cards, and genealogy.
Her husband, Basil "Bud" Sharpe, survives her, as do four children – son, Charles (Carol) Mullinix of Oak Hill, and daughter, Christina Potts of Franklin, Tennessee; stepson, Douglas Sharpe, of Sarasota, stepdaughter, Michelle Sharpe of Melbourne, six grandchildren, and 8 great-grandchildren.
No services are scheduled at this time. Arrangements are entrusted to Brownlie Maxwell.
Friends are invited to share memories and sign the family guestbook at www.brownliemaxwell.com.
Donations in lieu of flowers may be made to the Salvation Army or charity of your choice.
6 entries.
On behave of Ruth Spaeth and myself, wishing you comfort at this time of sorrow. I never met Jar, but had communicated online on occasions about our Mahaffey ancestors. Rest in peace 2nd cousin.
i will miss Jari as we have been close friends for about 15 years...camping together, card playing and other adventures. Jari, you will be missed so very much.
Deepest sympathy. I was so shocked to see this as I just sent her a birthday greeting on her Facebook page. So sorry for your loss
Jari you will be missed. Godspeed on your journey.
My half sister Jari, our father was Charles Mahaffey, and I are the last two siblings of our generation. I was just two and a half years old when we traveled with her to Florida, and that trip is probably my very first memory. Jari was in many ways my hero (heroine) in the family, always leading a fearless and adventurous life. And once I was old enough I made several trips to Florida to visit and get to know her. Our eldest brother, Charles Jr., was killed in the Korean War in 1950, and my brother John passed away in 2012. I am sure Jari is at peace and reunited with all our family and the many dozens of friends she made over the course of her amazing life.
You lived life to the fullest! What a wonderful legacy you have bestowed on all who love you. Forever in our hearts and memories. Love you Jari.