Jeffrey D. Chauncey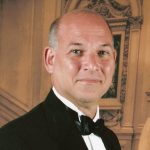 Born in Albany, GA on August 29, 1960.
Departed on January 5, 2018 in Melbourne, Fl
Jeffrey D. Chauncey, 57, of Melbourne, FL went to be with the Lord, suddenly, on Friday, January 5, 2018 at his home in Melbourne, FL. He was a wonderful husband, father, grandfather, brother, uncle, man of faith, and active member of River Run Christian Church in Melbourne.
Jeffrey was preceded in death by his parents Wildon and Beulah Mae Chauncey and a brother, Michael Chauncey. He is survived by Michelle, his loving and devoted wife of 32 years, his daughter Christina (Christopher) Wilson, three granddaughters, who were the delight of his life, Chloe, Caitlin, and Carly Wilson, his brother Wayne (Shirley) Chauncey, nephew Michael Chauncey, niece Stori (Jamie) Page, nephew Robert (Shannon) Chauncey, and many other nieces, nephews, great-nieces, great-nephews, and many friends and co-workers.
Jeffrey lived his early years (between ages 4-6 and 10-17) on Guantanamo Bay Base in Cuba with his family. For the last 17 years, he has lived in Melbourne, FL, was employed at Harris Corporation, and was a dedicated servant of God with his church family. His most passionate hobby was photography and he has shared his passion, knowledge, and gift with his wife, daughter, niece, and great-niece. The last several years he has honed his woodworking skills and has done beautiful upgrades to the home and most recently made beautiful hope chests for his daughter and granddaughters.
Many friends and co-workers have commented he was always willing to share his knowledge, wit, advice, and a smile, he will be deeply missed by all who knew or met him.
Services will be at 10:00 am Saturday, January 13, at River Run Christian Church, 1660 Croton Road, Melbourne, FL.
In lieu of flowers, the family requests (if so led) a donation to the River Run Christian Church camp and mission trip fund. In the memo, please note Jeff's Fund.