Jeremiah David Westfall
"Jeremiah was a bullfrog, was a good friend of mine"
Jeremiah David Westfall, 43, passed away suddenly on Saturday, April 17, 2021. Although he left us too soon, he has left his imprint on many lives. All that knew him, remember his outgoing nature and how he made them laugh and smile.
Jeremiah married the love of his life and best friend on May 15, 2015. He was extremely hardworking and enjoyed what he did. He had a passion for his country and would be happy to debate with anyone. In his spare time, you could find him fishing, working on his fresh and salt water fish tanks or cuddling with his cat Donut.
Survivors include his wife Stephanie, sons Andrew Seeley and Isaac Seeley, parents David & Pam Westfall, sisters Julie Westfall, Danielle Westfall and Joanie (Bob) Long mother-in-law Cindy Glunt, sister-in-law Lindsay Glunt, nephew Ezra , niece Ever and pets Dunkin, Donut and Sprinkles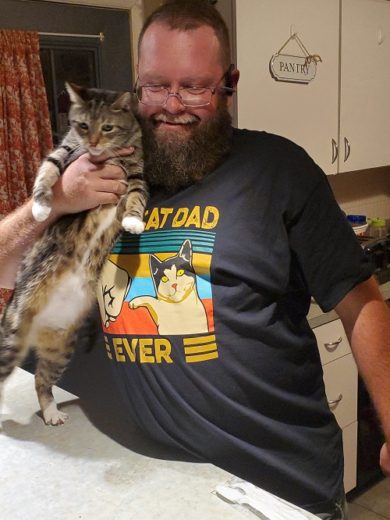 There will be a Celebration of Life Saturday, April 24, 2021 at Ballard Park in Melbourne, FL at 12:00 pm till the fish stop biting. Family and friends are all invited to come out and celebrate his life. Grilling, fishing, and storytelling will all be occurring.
9 entries.
Called too soon. Such a fun loving guy, you will be missed! Always made the parties more fun. Love you and miss you already. Your Aunt Linda
May god be with you and help you thru this horrible time. And I am always just a phone call away. Prayers being said. RIP JEREMIAH. U WILL BE MISSED.
So sorry for his wife and family. He was a great person. I will keep his family in my prayers.
So sorry Stephanie. Please know you are in our thoughts. They say time heals all wounds.. we've found that wounds from missing loved ones are never really healed but great memories at least help us cope. We are sending you love & prayers❤️
Although I never met Jeremiah in person , we were friends on facebook. He told it like it is. Thoughts and prayers to the family.
I adopted Jerry and Steph as their Florida Mom and filled in when Cindy and Bill were not in Florida yet. He was Steph rock and got her organized and gave her a perfect life. He was a life of the party never a dull moment. He will be missed but always loved.
Love you girl. Hope we can talk soon.
It's still hard to wrap my head around the fact he's gone. He was such a giving and helpful person. He could also be a royal pain in the ass. 🙂 but no matter what, good or bad, I loved him and will miss him very much.
Thankyou Stefanie that was just beautiful. We love you.