Jerry T. Freeman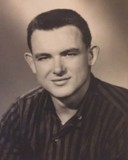 Born in Hillsborough, North Carolina on December 5, 1939.
Departed in Melbourne, Florida on November 16 2018
Jerry T. Freeman, age 78, passed away peacefully at Wuestoff-Melbourne on Friday, November 16, 2018. Jerry was born in Hillsborough, NC. His family soon moved to the nearby town of Durham, NC. He later moved to Melbourne, FL in 1979.
Jerry graduated from Furman University with a Business Degree in 1962. Jerry and Janice were married on August 22,1981, sharing 37 years of marriage together.
Jerry was proud of his service as a US Marine. He retired from Social Security Administration in 2005 after 43 years as District Manager over Brevard and Indian River County.
Jerry's family would describe him as a courageous, kind, giving, loving, and an adventurous man. He was an intelligent man who read voraciously and was always ready to discuss topics ranging from military history to politics and financial markets. He was always caring for those less fortunate and often stood up for those in need spending several years as head of the Space Coast Handicapped Association.
Jerry loved watching college basketball and football and was an avid fan of North Carolina Tarheels. He loved supporting his children and grandchildren in their sports and activities. One of Jerry's greatest passions was to spend time at Ocean Isle, North Carolina at the family's beach cottage where Jerry would relax at the beach and unwind.
Jerry provided quality homes & affordable housing to many in Brevard County. Former tenants who rented out Jerry's houses would stop by at times to thank him for helping them live with dignity through difficult times in their lives.
Jerry loved the Lord and often spent his time in reflection and prayer. He was a member of the First Baptist Church of Melbourne for 20 years. Faith was always an integral part of the Freeman family as evidenced by the fact that three of his family members are pastors- his brother-in-law David Bult, and his nephews Dave Bult, Jr. and Bryan Bult. Jerry often sought out answers in the Bible and had many favorite bible verses. One of his favorites was 1 Samuel 16:7, "For the Lord does not see as man sees; for man looks at the outward appearance, but the Lord looks at the heart."
Jerry valued family, humility and Service to others above all. No matter what he achieved he was always quick to credit others and to point out all the valuable contributions they had made. This is why he was an effective leader- kindness, empathy, and a great communicator. Jerry's employees often met high standards and outperformed other districts because he had hand picked them and then allowed them to develop under his nurturing guidance.
Jerry had a very strong work ethic that he first learned watching his father work as a construction foreman on the Southern Railroad. Jerry had an unwavering drive to excel and did not have any quit in him. Jerry could often be found either working at the Social Security Office or working tirelessly to improve a rental property.
Jerry was just 19 days short of his 79th Birthday. He will be greatly missed by his wife, Janice; his sons, Jay (Stefanie), Tom (Michelle), and Matthew; his daughters Christy (Lance) and Victoria; his sisters Carolyn (Lou), Diane, and Jane (Stephen); and his grandchildren, Amanda, Ben, Kira, Samantha, Dayton, Lillykate, Mason, Ava and Gavin.
4 entries.
One of the kindest, most gentle gentleman. I am so very grateful to have met you and your family and think about ya'all all the time. Janice I had no idea and would have been there for you. Jerry and Janice will forever be in my phone numbers as my landlords. It was an honor Mr. Freeman. Please give my Buster a kiss.
I want to offer my condolences to the Freeman family and prayers for comfort and strength .
Mr Freeman ..wish I could have hugged you & said good bye. Thank you again for hiring me in 97 & supporting me throughout my career with SSA. You were such a great mentor & leader. You touched the lives of many here at our SSA family. God Speed to your family. Fly high!
I'm so sorry for your loss. Mr. Freeman was the reason I was able to return to SSA in 2003 after the birth of my son and moving back to Melbourne. After he retired I enjoyed many a times running into him at Walmart. He always had a smile on and greeted me with loving kindness. I am forever grateful to him and his outstanding leadership. He lead with integrity and fairness but most of all love. He was definitely one of a kind. I always remember him talking about his lovely wife Janice. I pray the good Lord bring you comfort and strength during this most difficult time.