Joan N. Greenwell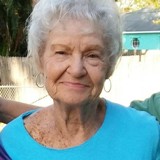 Born in Alexandria, Virginia on November 29, 1932.
Departed in Palm Bay, Florida on October 16, 2018
Joan N. Greenwell, 85, of Palm Bay, FL, passed away peacefully on Tuesday, October 16, 2018 in Palm Bay, FL. She was predeceased by her husband of 47 years, James E. Greenwell.
Joan was born on November 29, 1932 in Alexandria, Virginia. After marrying in 1954, she and Jim raised their family in Arlington, Virginia, before retiring to Palm Bay in 1997.
Joan enjoyed gardening, crocheting, and studying her beloved Bible. Her favorite verse was Psalm 143:8. A dedicated Christian, she so loved her fellowship with her church family at Faith Baptist Church. Joan will be lovingly remembered for her radiant smile, easy laughter and unwavering faith. Survivors include her daughters Sandy Greenwell, Kim (Doug) Weller, and Leigh Greenwell; and her grandchildren Andrew, Matthew, Ian, and Stacey.
A Celebration of Life will be held at a later date. In the meantime, please consider donating to the William Childs Hospice House, 381 Medplex Parkway, Palm Bay, FL 32907 or Faith Baptist Church, 341 Emerson Drive, Palm Bay, FL 32907.
17 entries.
Joan's friendship was a special blessing to me! So thankful that I had the privilege to visit with her in September! With my hugs and prayers for her precious daughters and grandchildren.
God, you are gaining another well designed angel. Please be with her family during this difficult time.
Please accept my mournful composition and deepest condolence. It's very nice to hear of a fellow lover of the Bible. Mrs. Greenwell no doubt trusted God. Death is a heartbreaking occurrence that distresses all people. Nonetheless, your dear one who no doubt was loved and admired by many suffered this fact that brings untold grief to your family and friends. In your times of sadness and grief, God's word reminds us all that if you pray about your concerns, 'the peace of God that excels all thought will guard your heart and your mental powers.'—Philippians 4:7.
Mom..thank you for being such a kind hearted and strong woman. You were the best role model a daughter could ever ask for. Your compassion and love of animals has always resonated with me, as you surely know as I brought every stray cat or dog home asking if we could keep them!! Mom, I will miss you dearly, but knowing you're in Heaven with God and all the Angels fills my Heart with joy. Till me meet again, I Love You!!
Sherry and I received the news that the Lord has taken Joan home to Heaven. It is not easy to say goodbye to our loved ones and friends. The tears come quickly. Sherry and I loved Joan, and enjoyed serving the Lord together with her for many years. Our memories of Joan are those of a faithful Christian servant, happy in the work of her Savior. Joan will be greatly missed, but she is with her Savior and experiencing more joy than we can imagine. Please be assured of our love and prayers for all the family.
Mom you were and always be my best friend! I'll miss your smile and the way you always laughed at my jokes even when they were about me. I will love you forever and know you are with the Lord and Savior that you loved and honored so much. I will see you again and for that I rejoice. God bless you, Sandy
I treasure joan and my friendship in the Lord. We sat beside each other in church and in Sunday school class. The many times we share scripture together was always an edifying experience for me. I think of the time in the future when we will again worship Him together in our glorified bodies!
Our dear sister will be missed, she was a faithful prayer warrior for us, and a great encouragement to us as we traveled and ministered to churches in America. It is a bitter sweet, but she has run her race and left behind a legacy to encourage all to be faithful and finish theirs. Praise God for His Promise, that being absent from this body means that all who have trusted in Him are present with the Lord.
Our thoughts and prayers are with you. Beth and David, members of FBC family
Joan will certainly be missed by her church family.
You are now with your Lord & Savior - Praise the Lord!
Our loss, heavens gain. A very special person.
Thanks for sharing you Mom with me she was a wonderful Mom to me and I will truly miss all my cards she would send to me in the mail. Love to the family
Joan was a lovely person and always fun to be with...
I will keep you and your family in my prayers during this difficult time.
A beautiful lady inside and out... Her faith and testimony will live on for many many years... You will be missed but never forgot! Robb and Colleen
What a lovely lady. She was certainly Christlike. So kind, loving and always a beautiful genuine smile. May God give you,her family, peace comfort and strength at this time. Praying for you.