Joanne M. Brownlie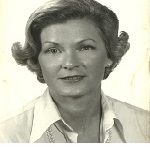 Born on September 5, 1931 in Knoxville, Tennessee
Departed in West Melbourne, Florida on March 5, 2020
Joanne M. Brownlie, 88, of West Melbourne passed away on March 5, 2020. She was a native of Knoxville, TN and a member of St Paul Lutheran Church in Melbourne.
Survivors include her sons Bart (Amy) Ferguson, Michael (Barbara) Brownlie daughters Greer (Steve), Waikel, Pat (Steve) Samet and Lisa (Steve) Rutherford, 9 grandchildren and 11 great grandchildren, She was predeceased by her husbands Bart Ferguson, Sr. and Conger Brownlie.
A memorial service will be on Friday March 13th at 2pm in the Brownlie – Maxwell Funeral Chapel.
Donations in her memory may be made to the Alzheimer's Association.

7 entries.
Please accept my condolences and prayers. I enjoyed seeing Joanne, she would always have a kind word to say. She was a warm and caring. God Bless all of the family and Joanne.
Joanne would have gotten quite a giggle out of the picture accompanying her obit - she had a great sense of humor and was a GREAT SOUTHERN LADY from whom I learned a lot and greatly admired - condolences to her family and Joanne please put in a good word with the Lord for me.
Joanne would get a good giggle from the picture accompanying her obituary - she always had such a great sense of humor - great southern lady - whom I learned from and greatly admired - Joanne please put in a good word with the Lord for me - condolences to the family.
Remembering JoeAnn brings a smile to my face and joy to my heart that our paths crossed at St. Paul Lutheran Church where she was a faithful servant and member.
Prayers ascending for comfort and peace. May Joanne's memory forever be upon your hearts.
Dear Mike and Family, My sympathy and condolences to you all on Joanne's passing. Think of you often, Love and Hugs Katie
So sorry for your loss RIP and god bless your family